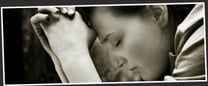 You've probably been asked to pray for an underprivileged child or solider, but for a terrorist? This is exactly what the website Adopt a Terrorist for Prayer requests.
Based on the words of Jesus, "Love your enemies and pray for those who persecute you" found in Matthew 5:44, the site offers specific terrorists to choose and pray for as a way to resist terror and show the love of Christ.
Ways to get involved are listed below from their site. I'd love to hear your comments here regarding your thoughts on this idea. Good? Bad? Confused? Share your thoughts!
From Adopt a Terrorist for Prayer website:
Spread the Word
Terrorism achieves Satan's desired results when it destroys courage by creating
fear. Fear destroys hope by inspiring despair. Despair destroys faith and spreads
doubt. Doubt undermines trust and then isolates us from one another.
You and I can resist the debilitating effects of terrorism by identifying with this
prayer movement, encouraging each other, and challenging others to join.
Your help to pray and recruit others reverses the isolation, doubt, despair, and
fear that Satan promotes with terrorism.
Social Network Action
Add ATFP.org to your FaceBook, MySpace, or LinkedIn profile.
Add the name of your adopted terrorist as a special interest on your FaceBook, MySpace,
or LinkedIn profile.
Use FaceBook, MySpace, and LinkedIn to meet others who are praying for your adopted
terrorist.
Start a FaceBook or MySpace group for you and your friends who have adopted a particular
terrorist.
Get an RSS news feed on your adopted terrorist to your personal e-mail or social
network page.
Tell Friends
Use the form on the linked page to send a message to your friends inviting them to visit
this site.
Email Friends
+++
DILLON BURROUGHS is an author, activist, and co-founder of Activist Faith. Dillon served in Haiti following the epic 2010 earthquake and has
investigated modern slavery in the US and internationally. His books include
Undefending Christianity
,
Not in My Town
(with Charles J. Powell), and
Thirst No More
. Discover more at
DillonBurroughs.org
.