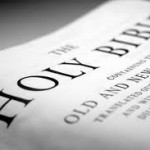 According to a new research project by Baylor researcher Aaron Franzen, those who read the Bible are found to be more concerned about today's social change issues, including social and economic justice.
As mentioned by David Briggs recently at Huffington Post:
In many cases, Franzen found frequency of Bible reading was one of the most powerful predictors of attitudes on moral and political issues. Consider some of the findings:

The likelihood of Christians saying it is important to actively seek social and economic justice to be a good person increased 39 percent with each jump up the ladder of the frequency of reading Scripture, from reading the Bible less than once a year to no more than once a month to about weekly to several times a week or more.
Christian respondents overall were 27 percent more likely to say it is important to consume or use fewer goods to be a good person as they became more frequent Bible readers.
Reading the Bible more often also was linked to improved attitudes toward science. Respondents were 22 percent less likely to view religion and science as incompatible at each step toward more frequent Bible reading.
The issues seemed to matter more than conservative-liberal tags. In the case of another major public policy debate, same-sex unions, nearly half of respondents who read the Bible less than once a year said homosexuals should be allowed to marry, while only 6 percent of people who read the Bible several times a week or more approved of such marriages.

Among other issues, more frequent Bible readers also were more likely to oppose legalized abortion, the death penalty, harsher punishment of criminals and expanding the federal government's authority to fight terrorism.
All that to say, the stereotype of Bible readers as uncaring conservatives is not accurate, something I regularly find in my personal experiences with people who love God and live what they believe.
When people feel compelled to help change the world, reading the Bible is usually not the first idea that comes to mind. But for those who desire to create change that impacts both now and eternity, it is essential reading.
In fact, many of today's hospitals, universities, social service organizations, schools, children's homes, nursing homes, and facilities for those with disabilities in the U.S. were founded by Christians. Why? In many cases, they were influenced by reading or learning biblical concepts that prompted them to do something to help others.
If you feel you are lacking inspiration or are just seeking a little guidance along the way, take a fresh look at the New Testament Gospels or other portions of Scripture to read how Jesus and other faithful leaders made an impact we can learn from still today.
+++
DILLON BURROUGHS is an author, activist, and co-founder of Activist Faith. Dillon served in Haiti following the epic 2010 earthquake and has investigated modern slavery in the US and internationally. His books include Undefending Christianity, Not in My Town (with Charles J. Powell), and Thirst No More (November). Discover more at ActivistFaith.org.