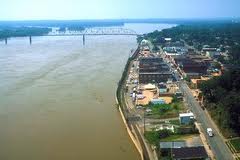 Father, we acknowledge you as Creator of all things–the heavens and the earth; sun, moon, and stars. Nothing exists without your creation; all things have been made by you and for you.
Because you have designed all the living world, we know you control all life as well. You can move mountains, stop the waves of the water, part seas, and redirect winds.
Because of your great and mighty power, it is to you and only you we make our plea today. Our friends and family, brothers and sisters, children and friends, stand in harm's way in the Mississippi River delta. We can send money, place barriers to control flooding, and seek to help those in need, but only you, God, can control the water's rise. Only you have the ultimate power to send relief to protect human life, animal life, trees, fields, and the food supply that serve as a source of strength to our nation and world.
We ask for you to intervene as you hear our prayers. Please, we ask, let the waters recede and protect the land, wildlife, and people in harm's way. Use your power to help and to heal, that many may see your answer and give you glory. May we see your power begin to work today in this matter; may many turn to you as the source of this answer.
We pray this in the name of your son, Jesus Christ, who lived, died, and rose again to show the perfect love of God to all humanity.
We love and praise you this day.
Amen.
[If this is also your prayer, please like and share with your friends and family online today. Comments on this site are also appreciated. Thank you for your prayers on behalf of those in danger today.]
+++
DILLON BURROUGHS is an author, activist, and co-founder of Activist Faith. Dillon served in Haiti following the epic 2010 earthquake and has investigated modern slavery in the US and internationally. His books include Undefending Christianity, Not in My Town (with Charles J. Powell), and Thirst No More (October). Discover more at ActivistFaith.org.