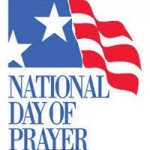 My friends at the Presidential Prayer Team sent me this encouraging update yesterday:
Well, it's official. America's National Day of Prayer is indeed constitutional.

Last week, the Seventh U.S. Circuit Court of Appeals in Chicago ruled unanimously that the National Day of Prayer — established by Congress in 1952 and in 1988 set as the first Thursday in May — does not constitute a violation of the separation of church and state.

The ruling deemed powerless a lawsuit brought by a group of atheists and agnostics called the Freedom From Religion Foundation … and overturned a ruling last April by federal judge Barbara Crabb that the National Day of Prayer was unconstitutional.

By law, the president must proclaim a national day of prayer every year — and despite Crabb's ruling President Obama, in his 2010 National Day of Prayer proclamation last year, said:

"In prayer, we have expressed gratitude and humility, sought guidance and forgiveness, and received inspiration and assistance, both in good times and in bad." Obama called on Americans to "pray, or otherwise give thanks, in accordance with their own faiths and consciences, for our many freedoms and blessings."
This year will once again continue a National Day of Prayer. For Christians, it is our privilege and responsibility to pray on behalf of our nation. Let us not look at this announcement as simply a victory, but a reminder of our call to intercede for our nation and its leaders.
I'm looking forward to this year's National Day of Prayer, but I'm not waiting until then to pray for our nation. I hope you won't either. Let's continue to ask God for his wisdom and strength today for our country, its leaders, and all those who serve this land we call America.
For more about the National Day of Prayer, see the official website.
For more about the Presidential Prayer Team, see their official website here.
+++
DILLON BURROUGHS is an author, activist, and co-founder of Activist Faith. Dillon served in Haiti following the epic 2010 earthquake and has investigated modern slavery in the US and internationally. His books include Undefending Christianity, Not in My Town (with Charles J. Powell), and Thirst No More (October). Discover more at ActivistFaith.org.