For some reason, a lot of people missed this post from Friday. I'm reposting it here as I believe Bruce's work represents one of the greatest areas of work in existence for Christians living out their faith today–freeing slaves.
Please read it and learn more about his efforts. Thanks!
-Dillon
+++
As part of Activist Faith, I like to highlight Christians on the
frontlines of creating positive change in our world. Today's hero? My
friend Bruce Ladebu, pastor and founder of Children's Rescue Initiative.
Here's an amazing picture and story of a recent project of his: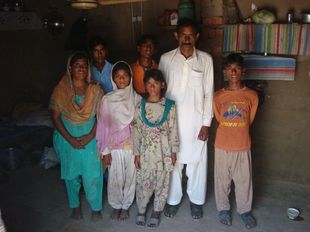 Investigating slavery
at a brick plant, Bruce Ladebu saw two
girls laboring under brutal
conditions. He made arrangements to free
the girls, who also had three brothers, a
mother and father. In the last
week of June, this family was freed from
their tortuous life as slaves. After freeing this family, our team in this
Asian country found that the two younger
boys had been taken to a hospital
weeks before and they were operated on
to remove one of their kidneys
each. They were told that the operation
was to put medicine inside of them. This is becoming a common practice with
the children: to harvest their organs.
The girls would have been sold to men
for sex sometime in the near
future. Our investigation
continues and our mission deepens as we boldly
rescue children.
+++
DILLON
BURROUGHS is an author, activist, and co-founder of Activist Faith.
Dillon served in Haiti following the epic 2010 earthquake and has
investigated modern slavery in the US and internationally. His books
include Undefending Christianity, Not in My Town (with Charles J.
Powell), and Thirst No More (October). Discover more at
DillonBurroughs.org
.