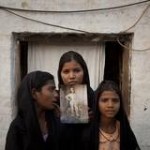 No pardon after all? That's the latest report regarding Asia Bibi, a 45-year old Pakistani woman sentenced to death for her Christian beliefs.
According to this week's Washington Post, "Pakistan's president will not immediately pardon a Christian woman sentenced to die
for insulting Islam but may do so later if an appeals court delays her
case too long, an official said Thursday."
Why the change? The article does not say, but does refer to the recent demonstrations in Lahore and other cities where Muslims have protested the original pardon.
I share this for two reasons. First, keep praying for Asia Bibi. She has been in jail for over a year already for allegedly blaspheming Mohammad and her Christian beliefs. Pray specifically for her quick release and to be reunited with her children.
Second, activism works (at least in this situation). Share this on your Facebook and Twitter. Email it to a friend. Write or call your Congressman and Senator (Here's how.). Get your church, parish, denomination, or other religious groups involved. Add Asia Bibi to every prayer list and petition you can.
Religious freedom is a basic human right for it is one of the most comprehensive of all human endeavors.