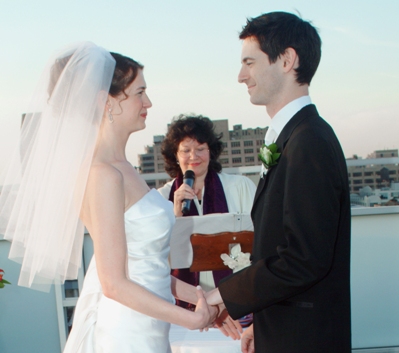 Interfaith marriages are becoming more common worldwide. But unlike marriages between couples who hold the same religious or cultural beliefs, interfaith marriages have some unique challenges. Unsurprisingly, these often emerge as couples kickstart their wedding planning. We spoke with leading interfaith wedding officiant and author the Rev. Laurie Sue Brockway about interfaith couples and her recently published book, Your Interfaith Wedding: A Guide to Blending Faiths, Cultures, and Personal Values into One Beautiful Wedding Ceremony. Below, she talks about how interfaith couples can overcome these challenges through thoughtful planning and teamwork.
Q: What exactly is an interfaith marriage?
A: People tend to think of "interfaith" as Jewish and Christian but it is actually an umbrella term for many diverse pairings. The combinations are unlimited. When any two people of differing faith or cultural backgrounds decide to marry it is considered interfaith. On one end of the spectrum is a Catholic marrying a Lutheran – both are Christians but technically of different faiths. Or it could be a union between a Hindu from Trinidad and an African-American Jehovah's Witness. In that scenario there is a blending of both religions and cultures. The most recent Pew study tells us that about 37 percent of all marriages are interfaith.
Q: Is there a common thread between these couples?
A: The common denominator boils down to a four-letter word: LOVE. They love each another, therefore, they are willing to rise up against the odds, or ignore them, and build a life together.
Q: You have officiated many interfaith weddings. Looking back on your extensive career, what have been some of the most surprising lessons you've learned?
A: It has been a great delight to discover that a "wedding chapel" can be created anywhere—on a beach, in a park or hotel, or even in a castle. The love between the couple creates an energy that radiates and it is very holy. Another delightful lesson: Families tend to get very stressed and demanding when it comes to planning a wedding but they settle down by the wedding day—after the ceremony.
Q: What inspired you to write Your Interfaith Wedding: A Guide to Blending Faiths, Cultures and Personal Values into One Beautiful Wedding Ceremony?
A: This book is a very personal mission for me. It is all my years in interfaith wedding ministry in a book! I serve so many diverse couples, from so many different backgrounds and points of view. The book includes the ceremonies, stories and wisdom of hundreds of the couples I have married. It is filled with rituals, prayers, readings and information on so many different faiths and traditions. It takes you from the start of the process — figuring out the kind of ceremony you want — through the entire experience of creating a personalized wedding ceremony. I get so many calls from couples in different parts of the country asking me for help and ideas for complex wedding situations. I wanted to put it all together in a book to help couples figure out how to weave together their different cultures, traditions, faiths, personal values and families. I wanted them to know it is possible.
Q: You mentioned in your book that one of the trends you see is couples choosing various spiritual and meaningful elements from their religions or cultures to incorporate into their wedding. What other trends have you noticed in interfaith wedding planning?
A: The other trend I see in my ministry is very personalized, meaningful ceremonies that celebrate the love between the couple, honor the families that are united on that day, and tell the unique love story of the bride and groom—without mentioning religion or God. Some couples want to walk the middle ground and keep religious and tradition out of the ceremony.
Q: In your book, you note that the most common challenge you see with interfaith couples are brides or grooms concerned with appeasing religious or very traditional parents. What are other common challenges interfaith couples face?
A: Sometimes the challenges lie within —our own deep down prejudices and judgments. Some couples have to truly get beyond that in themselves. Some couples are spiritually confused; they don't feel inspired by their faith but feel connected to it by guilt. Other couples have a faith imbalance, where one partner is more religious and the other is atheist or "lapsed," so they have to seek a middle ground. The other challenge is keeping a united front as a couple while tackling any family issues together. If groom or bride falls under the strong influence of their families, it creates a lot of friction in the relationship.