Portrayal on TV and Prayer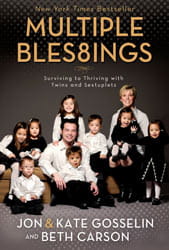 It's been said by a lot of your show's viewers that sometimes you come off as irritable. What do you say in response to that?
Walk a day in my shoes and you'd be irritable too. What you see is what you get. I mean, it's the real me. I'm not going to be somebody I'm not. I have chilled out a lot because there's so much going on. I have to. And I think that's good for me. But again, come take a whack at it and they'd be irritable too.
Do you have a favorite prayer you like to say?
We do. At the dinner table every night we pray together. It's our prayer that I came up with. It started after the babies were born and times were tough, and I started praying it with Cara and Mady because I wanted them to see the good and not the bad in our situation. We always pray, "Thank you, Jesus, for putting a roof over our head and a warm meal on our table." We still pray it to this day because I don't ever want to lose sight of being thankful for what we have.