Giant George: The Tallest Dog in the World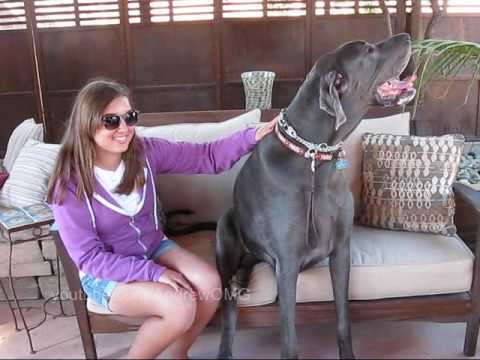 Weighing in at over 245 pounds and standing 43 inches tall, MEET GEORGE, the Guinness World Record Holder for Tallest Living Dog & Tallest Dog Ever.
6 years old, born November 17, 2005
Great Dane
AKC Registered
Sleeps on a Queen Size Bed … alone
Consumes 110 pounds of food every month
Has to bend over to drink out of the kitchen faucet
Sits on a chair like a human
"In my 45 years of experience working with giant breed dogs, without question, George is the tallest and largest dog I have ever seen."   Dr. William Wallace, Buena Pet Clinic, Tucson Arizona.
"He is certainly the largest dog I have ever seen." Dr. James P. Boulay, Veterinary Specialty Center Tucson, Arizona.
See more of Giant George: www.giantgeorge.com
~†~
Posted by Donna Calvin – Saturday, April 14, 2012
~†~
Please share this Watchwoman post on your Facebook page, Linkedin, Google+1, Twitter to all your friends, Please click "Like", Share, and Leave Comments. 
Visit Word Warriorette, a free Yahoo Group, and subscribe to be notified (one email a day) of new posts on Watchwoman.
http://groups.yahoo.com/group/WordWarriorette/
~†~
DISCLAIMER: Beliefnet puts paid advertisements on "Watchwoman on the Wall" blog site including some that would never be approved of by the King James Bible, Pastor Ernie Sanders of Doers of the Word Church, What's Right-What's Left Radio Ministry, the Voice of the Christian Resistance, Geauga County Right to Life and Donna Calvin.  We at www.WRWL.org do not condone, endorse, adhere to, practice or believe in many of the topics and some of what other bloggers promote or their religions at Beliefnet.  However, Mrs. Calvin has no control of what Beliefnet displays.   She blogs at Beliefnet because she is in the missionary field ministering to true believers posting articles and commentaries informing pro-life, conservative Christians of recent anti-Christian acts and hostile legislation to God's Agenda and His Will for the world.  Hopefully, unbelievers will read these along with the salvation message of Jesus Christ as written in the Gospel of John, Chapter 3, according to the King James Bible, and be saved.  A missionary must go into the unbelievers' territory to reach them.  Her mission is to Proclaim Warning to a Nation that has forgotten their Lord and Savior Jesus Christ, the only Truth, the Life, and the only Way to the One God the Father.
Read more: http://blog.beliefnet.com/watchwomanonthewall/?p=4928
~†~