Kids for the Heartbeat Bill
______________________________________________
Heartbeat Bill Press Conference Features Children
Dozens of children speak for the preborn, deliver heartbeat teddy bears to Senators
MARK HARRINGTON OF CREATED EQUAL WROTE . . .
January 13, 2012 – Columbus, OH – "I want to tell the Senators to pass the Heartbeat Bill right now.  And when I say right now, I mean right now!"  Those are the words of Christian Harrington, my son, on Jan. 10, 2012 at the Heartbeat Bill Press Conference in Columbus, OH.  A chip off the old block, eh?  Christian, age 8, along with 50 of his peers, spoke in defense of life in an attempt to force a vote on Ohio's Heartbeat Bill, which has been stalled in the Ohio Senate since mid-December.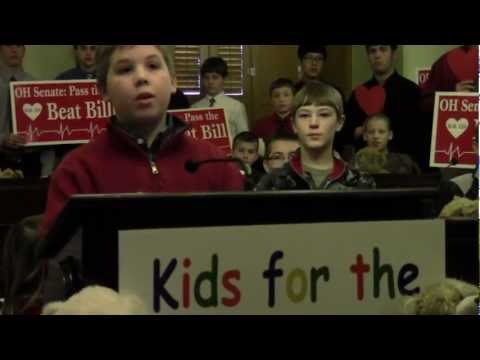 Christian Harrington speaks at Press Conference
The Heartbeat Bill protects babies with beating hearts.  As part of the effort the children delivered teddy bears to the Senators that, when squeezed, played the sound of a heartbeat of a preborn baby.  It was quite a moment to see the younger generation stand up for the babies.
Created Equal exists to inspire 21st century defenders to believe, even at this young age, that God has a place for them in this movement.  Nothing speaks louder than children defending children!
Look for our display at the Washington, D.C. March for Life on Jan. 23, 2012 at 4th Street and Constitution Avenue from 10am – 3 PM.
Help us end the greatest human rights tragedy of all time by financially supporting Created Equal. 
Created Equal
PO Box 360502
Columbus, OH 43236
Find us on Facebook, follow us on Twitter, and subscribe on Youtube.
[Watchwoman follow up: FYI most, if not all, of those in the Ohio Assembly and Senate who received the Teddy Bears you see in the video above from these adorable little children returned them because they were worth more than $33, the amount over which they would have to report having received them. What a shame! They didn't want their names associated with taking a Teddy Bear that when squeezed played a heart beat. That I find to be rather heartless!  These are children from whom they refused gifts! What a sad situation for Ohio.  I don't have a list of who (if any) kept them and who returned them. This week I read in the local paper, The News-Herald, a very tiny item in an out of the way place, saying they returned them with the remark about the $33 limit and that is all the information I have.  It just makes you want to cry.  I know there are some very good men in Columbus. I sure hope at least some of those good pro-lifers kept them, but I don't know. If you know, please let me know, and if I find out any more information, I will let you know.  ▬ Donna Calvin]