This hearing was cancelled shortly before it was  to take place.  Confirmed cancellation.  Will update you when it's rescheduled.
Who are they?  What are they?  What do they do?  Why do we need them?
By Donna Calvin
Today, I have the privilege of introducing you to a whole new area of activism. Courtroom Observers.
WHO AND WHAT ARE COURTROOM OBSERVERS?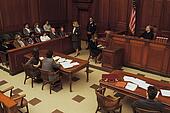 They are ordinary folks like you and me who do not want to speak in a courtroom. They are there just to observe the courtroom trials, appearances, motions, etc., that take place of a person who wants to ensure they get justice. They are concerned that they could be in jeopardy of being railroaded through an unjust and left-leaning judicial system.
Courtroom Observers simply take notes. They do not make any judgments on the guilt or innocence of any of the parties involved. They are there to simply provoke all the legalese involved to serve the U.S. and state Constitutions, to serve Justice righteously.
WHY COURTROOM OBSERVERS?
For example, if you had been a member of my Word Warriorette free online group, you would know that our Attorney General Eric Holder (appointed by unjust President Obama) refused to prosecute Black Panthers who intimidated black voters in black precincts in a recent election.
Today, injustice is common because we have unjust, ungodly people in positions of judges, lawyers and politicians.
To subscribe to the Word Warriorette free email group, just send a blank email to:
WordWarriorette-subscribe@yahoogroups.com
Visit the Word Warriorette Yahoo Group Home Page
Go to: http://www.WW123456.com
HOW DID COURTROOM OBSERVERS GET STARTED?
Pastor Ernie Sanders of "What's Right, What's Left" ministries, the Voice of the Christian Resistance, has had a prison ministry to those awaiting execution on death row for over 30 years. He is acutely aware of the injustice done by so many to helpless people without means.
Go to
http://www.WRWL.org
For more info about Pastor Sanders and his many ministries, including
Courtroom Observers.
Pastor Sanders decided something had to be done!
He started the ministry of Courtroom Observers.
WHAT DOES COURTROOM OBSERVERS ACCOMPLISH?
Keeping the Judicial System Accountable
They accomplish PLENTY. Honest and righteous judges and lawyers have confided to Pastor Ernie Sanders how much Courtroom Observers have accomplished in keeping order and justice in the courtroom.
WHAT IS THE FUTURE OF COURTROOM OBSERVERS?
I am going to be posting from here on out messages that will call for COURTROOM OBSERVERS to come to a specific place at a specific time. All you need to bring is a pen and paper. You cannot talk. Note: Do not even state your name. In fact, even if the Judge were to ask you your name, you are told that you must not speak. Even the Judge in charge of the courtroom cannot require you to speak or give even the least tiny bit of information about yourself, including your name. You are to be totally quiet. Not a spoken word. Just show up and observe, taking notes. That's all!
I will be posting messages from Patricia Paridon, a grandmother, who is desperately fighting to get her little granddaughter, Kailey, back from the house of abusers and into the arms of those who love her and want to protect her.
+†+
From Patricia Paridon:
URGENT: Court Observers Needed
Monday, May 16, 2011 at 1:30 PM
A lady named Dolores just called me about her horror story with the Trumbull County Family Court and we went on Pastor Sander's radio show with it.
Listen Live to Pastor Sanders – 9-11 PM, Monday through Friday, 1220 AM, Cleveland, Ohio
Or Around the World on the Internet – Click here: http://www.WRWL.org
The abusive father and his girlfriend are tormenting her son and the courts wants to give the custody to the abuser and take all visitation rights away from the mother. Heart wrenching doesn't even come close to describing it. CSB will not protect this child. This sounds familiar. The father threatens this child that he will never see his mother again and traumatizes this child. This father took the child to FL while the mother had custody, but the courts did nothing! This sounds familiar.
Please come to the Trumbull County Family Courthouse
2nd Floor – Mag. Savakis (Judge James)
220 S. Main / Warren, OH 44482
Downtown Warren at the corner of Rt. 422 and Main Ave. across from Mickey's Army and Navy Store