There are a few misconceptions about Black Nativity, the holiday musical arriving in theaters this week. First, while it sports the same name and is loosely based on the seasonal theater show, it really isn't the same production.
Originally, Black Nativity was a Christmas play written by Langston Hughes which first arrived off Broadway in 1961, but has had numerous similar productions across the country since then. It is basically a nativity story that features tradition Christmas carols in a gospel styling and an African American cast. Here, the movie is centered on a family drama with the nativity story taking a smaller role. In addition, Instead of being a Langston Hughes production, this modern story is a tribute to Hughes, as characters make references to the man throughout. (As a poet, activist, novelist, playwright and columnist, Hughes is often credited as the leader of the Harlem Renaissance.)
The second misconception is that this story is for a "black" audience. While it is true that the cast features an exclusive black cast, the story it tells is for all colors and all generations. While life showing life inside of Harlem will be eye-opening to some white folk, the story is something we can all relate to. It features new music that actually progresses the storyline and feels like an extended music video at times. It is full of truth and light, like the original nativity story, yet told in a contemporary setting. Above all else, it is a story about forgiveness and redemption.
This more holiday movie starts out more sobering than joyful. It begins with Langston (named after you-know-who and played by Jacob Latimore), who is sent to live with his grandparents, the Reverend Cornell (Forest Whitaker) and Aretha (Angela Bassett), who he has never met. The reason for this is that his mother, Naima (Jennifer Hudson), is having trouble paying the bills and is getting kicked out of her apartment. Langston travels to Harlem by bus the week before Christmas and has trouble adjusting almost from the get-go. Cornell is stern but Aretha is sweet. Still, Langston can't get an answer from them or his mother, on why the three of them are not speaking. As he struggles with all of this, Langston has dreams about the Christ child. Similar to the Wizard of Oz movie, many people he's met are featured in his dreams as well.
Many questions are raised during the course of this 90 minute film that just might wrap up a little too tidy at the end for some people. However, the story is quite realistic and honest. It dares to show people of faith as flawed human beings including a pastor that is too proud to let his congregation know that he can make mistakes and a daughter who is too proud to ask her parents for help.
Director Kassi Lemmons did a fine job casting. Whitaker does an amazing job as a preacher – you would think that was his day job. Bassett, who looks too young to be playing a grandmother, lets us in on what she is thinking by her facial expressions alone. She struggles wanting to hug her grandson but giving him his space as well. Yes, Whitaker and Bassett do their own singing, and are quite good as well. Bassett even has a solo!
Of course Hudson is a natural fit for this type of movie. It's no surprise that she can sing and act. What is a surprise is Latimore in his first major screen role. As the son and nephew of The Latimore Brothers, an inspirational quartet, it's easy to see that music runs in the family. But this kid has some acting chops as well.
Rounding out the cast is Tyrese Gibson working for a pawnbroker and Mary J. Blige who appears to Langston as an angel in more ways than one.
One drawback to this film is that it doesn't have come with music that sticks in your head. This isn't to say that music featured in the film isn't good. It's very good, but very stylized and people who do not care for musicals may favor this. But if you love musicals, you probably won't be singing any of the tunes on the way home. Black Nativity features traditional songs like "Motherless Child," "Fix Me Jesus," "Silent Night," "The First Noel" and others; it also blends new songs and styles written by Lemmons, Raphael Saadiq and Taura Stinson.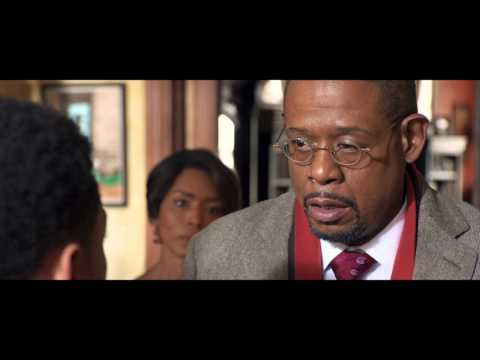 Though centered on Christmas, the story and message of Black Nativity can be appreciated outside of the holiday season as well.