The ingredients for this film were so irresistible that it is a unexpected bonus to find that it is so much better than it needed to be.
It's based on a true story of extraordinary kindness, generosity, and friendship and it stars a bunch of adorable English actors (Imelda Staunton, Bill Nighy) who could read the tax code out loud and make it cuddly and uplifting.  But it is also very smart, very touching, and very timely, and one of the best films of the year.
Prime Minister Margaret Thatcher imposed a system of market-based economic changes that created massive upheavals, depicted in films like "Billy Elliot," "Brassed Off," and "The Full Monty."  The miners were on strike from 1984-85 after the Thatcher government announced that it was shutting down many of the coal mines, and it was a bitter, angry time.
It was also the early stages of gay pride.  And one young activist, Mark Ashton (the enormously charismatic Ben Schnetzer) sees a connection between gay pride and the miners.  They have a common enemy.  He sets up something called Lesbians and Gays Support the Miners, and gets a couple of friends to join him in collecting money to help the miners on strike.
But most of the miners groups turn him down.  Only one responds, a group in Wales.  Their leader Dai (Paddy Considine) comes to London to pick up the money LGSM has raised, and his thanks is genuine and very moving.  "When you're in a battle against an enemy so much bigger and stronger than you, to find out you had a friend you never knew existed, well, that's the best feeling in the world."
They invite the LGSM to visit, and the welcome ranges from warm to a bit stiff and uncomfortable, except for one woman who calls them perverts and tries to get them thrown out.  As one might predict, there are scenes of gay men dancing and cute country folk asking questions ("Is it true that all lesbians are vegetarian?  I heard that at the covered market!").  And one of the local guys sheepishly asks one of the London gay men for a dance lesson to impress a girl.  There's also a guy who's not out to his family.  And, as time passes, the spectre of a far worse scourge than Thatcher will shift the focus of the gay pride movement to AIDS.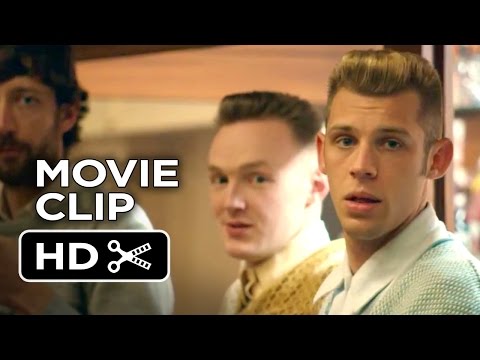 But for a brief moment, there was a connection that grew from a common threat to a unity of purpose to understanding and real friendship.  The final section is a reminder of how much difference we can make and how much that difference is needed.
Parents should know that this film has some mature themes and strong languages.  Characters drink and smoke and there is some peril and violence.
Family discussion: What did the gays and the miners have in common?  What groups seeking dignity and justice can you help?
If you like this, try: "The Full Monty," "Brassed Off," and "Billy Elliot."