Glen Campbell…I'll Be Me
is a beautiful documentary about an ugly disease. Glen Campbell, one of the most popular and successful musical performers of all time, was diagnosed with Alzheimer's disease in 2011. As memories, words, and some basic concepts about daily life became fragile and then disappeared entirely, the music stayed with him. And so, his family took him on one last performing tour. The audiences were understanding, applauding even when he forgot the words or repeated a song he had just played. But backed up by his children, he played brilliantly and he loved the audience and they loved him back. The documentary is the story of that tour, of how Alzheimer's affected Campbell and his family, and, with commentary by friends and fellow musicians, about how all of our lives are touched by the tragedy of dementia and cognitive impairment.
Campbell's wife Kim is in every way the heart of the film. Her loving spirit and devotion are deeply moving. It was a pleasure to speak to Kim about the film, which is Glen Campbell…I'll Be Me
now available on DVD.
What has it been like for you to see how audiences respond to this film?
It's been amazing. Everywhere we go and show the film people are really moved. They feel like we're telling their story and they feel like it's bringing Alzheimer's out of the shadows into the light and helping remove the stigma of this disease.
What is it about music that seems to be able to reach people with dementia even when words are failing?
From what the doctors told us, music involves all the different regions of your brain at the same time and everything is stimulated at once. It just seem to promote the health of the brain, to keep everything working. They say that it may have kept Glen from progressing as quickly as he otherwise might have had he not been playing music. It's a natural memory aid. People have used music to memorize things for years, for centuries. I think when you hear songs from your past on the radio or something you remember everything, you remember where you were when you heard it and the smell of the ocean and colors and what you were wearing and it just seem to trigger everything to do with your memory for some reason. And it brings joy to people. And joy of course brings a sense of well-being. So it's a good therapy for people. I think all the arts are. There is a video clip of Glen relating to color and singing while he is painting and it's really beautiful. So I am a big advocate of all of the arts for people with dementia. Really for everybody, for caregivers too. The art is therapeutic.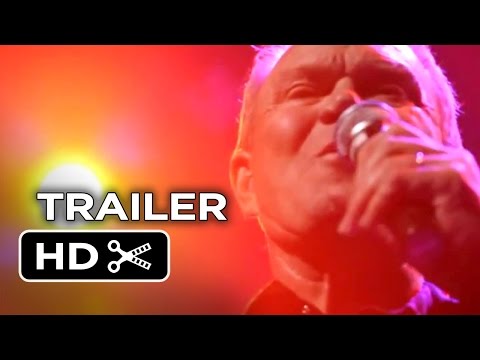 How is Glen doing now?
In March of 2014 our family joined the Memory Support Community in Nashville and Glen began residing there but recently about a month ago I brought Glen back home so now I'm caring for him at home again. And it is extremely challenging, he's at the point where he just need one-on-one care round-the-clock. And it's such a joy to have him back, emotionally it's much better for me but physically it's really challenging, I don't get much sleep. He still has moments when he can become combative. I'm sporting a black eye this week that I got just trying to change his pants. You know that's a part of Alzheimer's that people generally don't talk about. Your desire is to protect someone's dignity but I really don't think it has anything to do with dignity; it's a disease. And this is typical for all people who have Alzheimer's. They can't express themselves verbally anymore and they don't understand what's going on, if you are trying to bathe them or take their clothes off or something their natural instinct is to lash out. So it's just something that you don't talk about that I think needs to be out there so that people can understand the tremendous challenges it is to be a caregiver for someone who has dementia.
So what are you doing to try and takes care of yourself? You can't take care of him unless you are in pretty good shape.
Well, I pray a lot and I'm so blessed to have our daughter Ashley and our son Shannon and our nephew, Matthew. They've all been a part of our care team for so many years and they're still living at home with me and helping. So I have got family and friends around, so that's really important because you don't want to become isolated. So many people are isolated in a home with someone with Alzheimer's and they don't have any help or the moral support of having somebody else there to help you. But I exercise, I take ballet, and that's very therapeutic for me. I think it's really important to raise awareness about Alzheimer's and educate people about Alzheimer's and so I'm doing that. I recently did a real estate course to get my mind off of Alzheimer's and learn something new because I am aging, too. I am 57 and for my brain health I need to keep learning. So that was really fun. And it helps to meet people that are going to the same thing that I am. I've met a lot of women around the country who have husbands that have Alzheimer's. I think it's really different thing to have a spouse with Alzheimer's than with a parent who has Alzheimer's, emotionally different and so to have those friends has really been a great support to me. And I don't belong to formal support group but I believe that those are really important and people should seek those out in their communities. I'm just blessed that it kind of happened organically with me to meet people in the same situation around the country and connect with them we stay in touch and visit each other and talk on the phone about what we are going through. And I try to eat right, too, all the natural things.
The film really makes clear that while people with Alzheimer's and their caregivers have a lot in common, there are some very big differences.
Right. The thing is if you see one person with Alzheimer's you've seen one person with Alzheimer's. It's different for everybody but at the same time it's similar for everybody. There are standard things that people generally go through. Not everybody becomes combative but many do. Not everybody goes through retrogenesis but many do. Glen hasn't really regressed and started becoming a child but there are childlike things that he began to do like his fascination with color. That is kind of beautiful actually because the way they begin to look at the world is like a brand-new life. Glen would look at the sunset and just get so emotional about it, "That's the most beautiful thing I've ever seen!" So you try to find beauty and joy in the obvious tragedy. It's your brain dying and you're losing your memory but there's still beauty to be found and Glen still seem to recognize me and we love each other and hug each other and still there are moments when we really connect deeply, when we look into each other's eyes. And for the longest time Glen still would say things like, "We are so blessed!" Or he would go over to the window and raise his hand and say, "Thank you heavenly father!"
So I knew that he still senses God's presence and we're still connected to God and that really gave me a lot of comfort. Now he has really progressed with his dysplasia so his ability to communicate verbally has diminished severely. He doesn't understand anything anyone says to him but we still communicate with smiles and hugs. At least it's so funny because he still has his personality to some extent that he's always been an entertainer, and so even now he's still telling you jokes. It may not make sense, the words don't really relate to each other but he is telling a joke so he laughs and laughs and laughs hysterically which makes us laugh and that makes him happy. So we try to appreciate each day for what it is and we just love each other and try to make the best of a bad situation. What can you do?
Tell me about some of the support activities you are working on.
We're also excited that the I'll Be Me Alzheimer's Fund will create programs that will lift the spirit of caregivers and also fund research. What we want to do is give an award to young scientists, give grant to somebody like gave Mayo Clinic or a place like Johns Hopkins to hire a young scientists and involve them in Alzheimer's research because generally scientists doesn't get involved in research until they are older. It's really exciting. There are lots of great companies working as hard as they can to find their drug or therapies are hopefully a cure. So we're hoping that that is going to speed up the process.
If somebody came to you and said, "We've just got the diagnosis and I don't know where to turn," what would be your first piece of advice?
You have to educate yourself. That's the first thing and the Alzheimer's Association is really helpful. That's where I went to start learn about the disease and learn what kind of resources there are available to you. You have to build a support team around yourself. It's important for the person who has Alzheimer's to have that support and the caregiver needs support. You can't do it on your own — it takes a team. I would advise them to not let it get you down, do what Glen did and keep living your life and not worry about it. Don't worry about tomorrow. Jesus said, "Don't worry about tomorrow, it has enough worries of its own." And a cheerful heart is like a good medicine so keep yourself a healer, keep living your life. Educate yourself and surround with people that you love and who will support you. And be honest with people, because when you are honest with people and let them know what you're going through that gives them permission to step in and help, it helps to remove the fear. I think people are afraid, "I don't know how to relate to someone Alzheimer's" and they just stop coming around because they are afraid that they will say the wrong thing. But if you talk openly about it, it helps them feel a bit more comfortable with you. And then you've got more support.