| This product uses the TMDb API but is not endorsed or certified by TMDb.
What kind of movie do you feel like?
Ask Movie Mom
Click here
Disney foolishly forced legendary animator Floyd Norman to retire at age 65, but he was not foolish enough to stop coming to work. Every day, he brings his wife Adrienne to her job at Disney, and then he spends the day wandering around, asking questions, talking to people, and generally, to use the portmanteau word Adrienne came up with, "floitering." "The whole Disney campus is Floyd's office," says one colleague. Eventually, Disney realized they could not do without him and they gave up and just hired him again.
This delightful documentary about the very "animated life" of Floyd Norman is a must-see for fans of animation, movie history, and stories of lives filled with creativity, courage, and a sense of adventure. His career extends from the classic "nine old men" era at Disney, where he worked for Walt Disney himself animating the prince, the horse, and the three fairy godmothers in "Cinderella" and Kaa the snake in "The Jungle Book" and the "Jolly Holiday" musical number in "Mary Poppins" to animating, writing, and directing for Hanna-Barbera, Pixar, and for his own company. He used Roy Disney's camera to go into Watts and shoot footage of the riots that was broadcast on the NBC news, and he worked on iconic Saturday morning cartoon shows like "Fat Albert and the Cosby Kids," "Johnny Quest," and "Scooby-Doo." (The only negative comment the sunny-tempered Norman makes in the whole documentary is a good-natured aside on Scooby — "I hate that dog!") He even animated the opening logo for "Soul Train."
More characteristic is his description of his childhood in Santa Barbara as "incredibly pleasant." It was there he saw his first Disney animated film — "Dumbo" and knew that making cartoons would be his life's work. It didn't matter that Disney had no black animators. He was "just another kid who wanted to work for Disney," and when they saw what he could do, they hired him as an "assistant in-betweener" on "Sleeping Beauty," where he was expected to turn out eight "dead-on precise" completed drawings a day.
One of the highlights of the film is seeing Floyd Norman at San Diego Comic-Con's Quick Draw, with MAD Magazine artist Sergio Aragonés. But every moment is pure pleasure, as we see the man who is still "in touch with his inner 20-year-old" demonstrate the skill, imagination, and dedication that has been central to much of the most creative entertainment of the past 60 years.
Parents should know that this movie has a bleeped bad word, a sexual reference, and references to drinking and divorce.
Family discussion: Which is your favorite Floyd Norman animation and why? How did he show flexibility and "shape-shifting?"
If you like this, try: "Waking Sleeping Beauty," "Walt and El Groupo," and, of course, "The Jungle Book," and Norman's other animated classics
The most charming and romantic film of the year is the lovely "Southside With You," the story of the First Couple's first date. Michelle Robinson was recently out of law school herself when she was asked to be mentor/supervisor of a law student named Barack Obama. She agreed to go with him to a community meeting and insisted that it was not a date. But it ended with their first kiss, at a Baskin-Robbins that now has a plaque commemorating the historic event. "Southside With You," like "Before Sunrise," is the story of two bright, curious, vulnerable, committed young people getting to know one another and falling in love. Three journalists spoke to the people who made the film, writer/director Richard Tanne, and stars Tika Sumpter and Parker Sawyers.
Tanne said, "I was just really struck by the two of them as a couple, just the way they looked at each other, the way that they flirted, there was something authentic about it and vibrant and even a little sexy. I think that that is a rare thing in people and I think it's an even rarer thing in public figures. So when I did end up reading about their first date, it just got me really excited because the conflict was: she's not interested and he has one day to win her over. That felt like a really good romantic conflict to hang a movie onto. Not to mention there's another aspect of it that we know what they went on to accomplish together, and the history that they have made, but the two characters don't, so there is a dramatic irony running through the entire movie. Whatever your relationship is to the Obamas you're going to bring that to it as well. And there's a tiny bit of almost suspense in the fact that if something had just gone wrong on that date where would we be today? It would be a different world."
Sumpter and Sawyers were careful to give performances, not impersonations. Sumpter said "We definitely when we started this process Rich and I said, 'We do not want to impersonate; we want to embody the essence of who they are,' and so for me I took the whole 'Okay this is Michelle Obama' off and went back to the girl who went to a magnet high school, who was told no, that she couldn't get into Yale, just back to that family, the essence of her family, her parents who worked really hard, and I related it back to my life and said, 'okay a lot of girls can relate to her' and that's why she's so accessible. Even in the dancing scene, with the drumming, it's like look at Michelle now, she's dancing with Beyoncé! So I read books, Invisible Man which we thought they obviously would read in school and then also her brother's book A Game of Character really helped me to see who she is and who she was during that time. So that informed me a lot about their family, like how tight they were and how they gave those kids so much confidence that they could do anything they really wanted in the world, even if the world told them they couldn't, so that was part of my process….I think what intrigued me and what I really got from her, I just felt like she didn't apologize for who she was. She didn't dumb herself down. She spoke her mind and I think a lot of the time women are constantly saying 'I'm sorry' for the things they shouldn't be sorry for or trying to dim their lights so that somebody else can feel greater. And it's like 'No, if I'm going to be here you come up here and we see each other.' And so that inspires me to this day because I'm like 'Wait, I can be just as smart, I can say what I need to need to say' without people looking at me like 'she is such a bitch or whatever.' It's like 'No, nope, I am actually smart and I'm speaking my mind like you would.' So I think that inspired me and intrigued me for the movie and in life."
Sawyers said, "I took Richard's notes before I sent in my tape for the audition. He told me, 'Just be a guy, trying to get a girl,' that's it. And so obviously I worked on Barack Obama as we all know him now and then dialed that back and then overwhelmingly used Richard's notes just to be a guy talking to a girl. He's really trying to charm her. He knows he is going to graduate from Harvard and do well, he knows he's working in a law firm, he knows these things in his life, he knows he is probably going to make a lot of money but he doesn't know if he can get this girl if he doesn't act right and really put his best foot forward and so for me that was the goal in that film…So to normalize how I think and just to realize how normal they are, that was the biggest thing."
As the couple discuss their families, we see the contrast between Michelle's loving, stable home and Barack's absent father. Sumpter said, "I think sometimes life brings you the person that needs to teach you something about yourself and I think she came from such a stable background and he didn't, full-family wise. I think she was a little bit wound up, like she wasn't used to telling people about [her father's] MS and all that stuff, so there's something about him that made her feel comfortable enough to speak about that. There is an empathy there as you go on in the movie the way he speaks about his father. There's some kind of connection there where she felt comfortable enough and I think that affected her, it enabled her to share about her dad and what's going on and her dad was a huge influence in her life." Sawyers added, "I think she helped him understand what a father could be. What he missed out on. And he enjoyed hearing that. And then perhaps looking forward to the future he thought. 'I can be a good father even though I didn't have one.' I listened to his interview with Marc Maron, and in it President Obama does say that Michelle had the family, the roots, not a perfect family but a great support system. That's one of the things that attracted him to her and he also mentioned that he was late like all the time and she had to stop him once and say, 'Listen, my dad had MS and we would get to my brother's basketball games two hours before so he could walk the stairs. He didn't want to sit in the handicapped section, and he wanted to walk up the stairs by himself and he was always on time, so stop being late.' He told that story."
Tanne said first and foremost was the love story "and to try my hand at a movie where I could be in an unfolding mood over the course of a day. I love movies that take place over the course of one day. One of them being "Do The Right Thing," which takes place on a hot summer day. And that's one of my favorite movies, obviously the Linklater movies and then those were sort of a gateway drug to the Éric Rohmer films where he invented the romantic walk and talk and philosophical ambling movie. The opportunity to show all the little moments between two people that most romantic movies leave out.
I wanted moments on the cutting room floor, that's what I wanted in this movie to be. So we were cutting it together from the kind of quiet minutiae that other movies might ignore. I really like that. And the great things about these two actors is that with Tika, she almost could be a silent film star, like a Lillian Gish but now. And I think one of the great discoveries of the movie is her facial reactions and her eyes and the way that she responds to things. In a way I wish I could go back and rewrite the script and have less dialogue. The more we made the movie the less the dialogue was important and just the way that they were interacting. Parker for this being his first leading man role in a movie ever, Tika has been leading on TV shows and other movies but for him it was the first time out and he was able to meet her at that level and they were able to really exist in the moment. And for a movie like this that's what it needs to be, you need to find those moments. They would just sit with each other and we could just roll the camera and wait for them to react and have those little moments where she looks at him and he is not aware that she is looking. And then she looks away and he looks back. And so they found those things organically, some of them we worked on, some of them we said, 'Hey this is a turning point where emotionally where you are starting to let your guard down,' but for the most part it was all found organically in the moment. So again the fact that he was able to do that his first time out, the fact that she's kind of a master at it, it was really nice to have that."
A turning point in the movie is when Michelle sees Barack speak to a community group that has had a setback and is feeling disappointed and let down. Tanne spoke about the challenge of writing a speech for a man who is known as one of the greatest speakers of our time. "It wasn't too daunting because by the time I got to that scene in the movie, which is the middle of the film, and I wrote it in order, so by then I was really familiar with the characters. I knew who he was at this point in the story, I knew who she was at the point in the story and the underlying goal was, he's got to impress her with this speech. Now there is a duality there because it's not like he wouldn't have been there if Michelle wasn't there that day but it's a benefit that she is. So he may have even been showing off or hitting it harder that day because she was there. So I knew how powerful it needed to be but I also was aware that he was a little bit rough around the edges, not as fully formed yet and I was familiar with the Altgeld Gardens at that time. I had done my homework and I just felt like I had a good sense of what a meeting like that could have been like. So without sounding too artsy fartsy it sort of just wrote itself. And then in doing it, Parker actually came to me before we shot it, maybe a few weeks before, and he was like 'I think we should start working in some of the more practiced Obama mannerisms because this is him in a different setting.' And it's public speaking.  He brought up how there was a video of Obama at age 29 on the Harvard campus defending a professor at the rally. He was already sort of fully formed as a public speaker at that point. So we figured out this was a year earlier, so that was really the first point in the movie where we actively went after some of the mannerisms."
Sawyers said that he practiced the speech, even buying his visiting sister a spa day to get some time alone to rehearse in his hotel room. "It was one of those things where if Barack speaks to the people the way he wants to speak to people to move them that will indeed move Michelle because she would see who he is. So I wasn't necessarily playing for Michelle in the way I acted, it was more like, if I just do what I do then she'll see I'm not this bad guy." Tanne added, "We must have shot that scene from seven or eight different setups all the way through from the beginning to the end, what was that a 15-minute speech? Something like that? And he didn't trip up once on a single word, I mean it was remarkable."
The first stop on the date is an exhibit that features the work of artist Ernie Barnes. Tannes explained, "I couldn't find any information about what art they saw that day so I just love Ernie Barnes' art and I took a risk in writing the scene to his art because you never know if you're going to get the rights. Luckily the Ernie Barnes Family Trust read the script and they really responded to the script and they've been incredible from the time we shot all the way through letting us use the imagery in the trailer, giving us the works for the end credits, works that aren't even seen in the movie. I've always loved his artwork which I first saw in Good Times and that's how it all came about. The exhibit they visit is an Afrocentric exhibit so there are other artists there but the bulk of the dialogue could very easily derive from just looking at the Ernie Barnes' work because it covers the spectrum of black life. And so it led to them talking about their family members and their experiences as kids and it just prompted all this really interesting discussion from the two of them." Sawyers agreed. "It was a perfect inspiration."
If at first you don't succeed….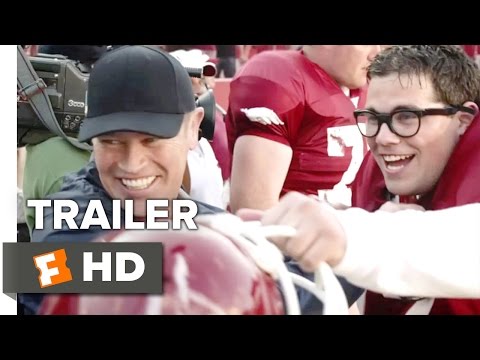 Neal McDonough ("Arrow") stars in "Greater," the true story of Brandon Burlsworth, the greatest walk-on in the history of college football. He plays Burlsworth's brother Marty, who inspired and supported Brandon's dream of playing for the Arkansas Razorbacks, and who made it through sheer determination and persistence. McDonough, who has played supervillain Damien Darhk in "Arrow" and "Legends of Tomorrow" and superhero good guy Dum Dum Dugan in "Agents of S.H.I.E.L.D," answered my question about playing a real-life character and why we love movies about sports.
How did growing up in a big Irish family help prepare you for working on movies and television?
I joke sometimes that it was great training for working in ensembles, because you're so accustomed to having to do something to make yourself stand out when you grow up one of six kids. I suppose the real help it's been is that it teaches you to be comfortable in crowds and chaos – and movie and TV sets are certainly that.
Your character in "Greater" was more than an older brother to Brandon Burlsworth. Why was that relationship so vital and how is it portrayed in the film?
Marty is so much older than Brandon that he is often mistaken for his dad – which is a running joke in the film and was a running joke in the lives of the real Marty and Brandon. And since their father is troubled and absent for both of most of their lives, Marty is very much a surrogate dad to Brandon. So he has almost two concurrent relationships running with Brandon – the jovial, joking brother side and the more caring and protective parental side. It makes for a very rich and complex character to play.
You've been working on some heightened, genre projects based on comic books. How do you recalibrate for returning to a more realistic, fact-based drama?
It's why they pay us to act, right? Actually, for me, a role like Damien Darhk in "Arrow," who is such a true comic-book, over-the-top villain, is far easier to play than Marty. There's less deep characterization in a villain like Darhk – lots of broad brush strokes of villainy – how truly bad can you be, you know? But it's a lot more rewarding, and more of an exercise in the craft of acting, to take on a character with as many emotions and layers as Marty.
What are some of your favorite football movies? Why are we so drawn to sports stories?
Favorite football movies? Well, "Greater," of course. (laughs). Sports movies, when done right, spotlight the best about the human spirit and character: doing your best, overcoming the odds, matching your skills with another person's, developing camaraderie and teamwork and achieving a goal – whether as a team or an individual. Sports are where we test our limits, face our fears, make our dreams come true. That's what audiences will see in "Greater" – excitement and emotion.
What was the first acting job you got paid for?
I played the pivotal role of "Dockworker No. 2" in Darkman, which I hadn't thought about until right now, is interesting because it was a superhero movie and, well, had a character with "dark" in his name at the center. Interesting, isn't it, how you notice all these "coincidences" when you look back over your life and your career – when you've tried to follow the path God has laid out for you. Fascinating, and humbling.
What's the best advice you ever got about acting?
Steven Spielberg told me, "Every good actor is no further than 50 feet from the camera, even in-between rehearsals, between takes." That's great advice because If you're in the orbit of the camera, no further than 50 feet away, if they need you, boom, you're right there. They don't have to call to get you out of your trailer. If you're always right there; that's a great actor. You learn so much because you see how they do certain lighting; you see how other actors act. For young actors, the more you can stand around or sit there—-even when you're not shooting-—just sit there on the set and shut up for three hours, you'll learn more in one day than you'll ever learn in film school.
What do you want people to learn from the story of Marty and Brandon?
First and foremost, I hope they're truly entertained. This is a movie of very big ideas and themes but also great fun and humor. There is some excellent, exciting football action in this movie, along with lots of solid family drama. And there's plenty of humor, too, in Marty's relationship with Brandon but also as we see Brandon expanding his social skills as he gets more and more accomplished at football.
But I also hope audiences leave encouraged – reminded that when hard times do come, and they will, that God has a purpose in them. And we can actually be blessed through the pain if we follow Him through it.