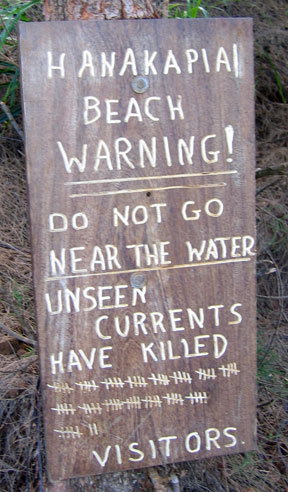 As I drive around on Texas highways, I keep seeing a sign that makes me raise my eyebrows with incredulity. It reads:
OBSERVE WARNING SIGNS

STATE LAW
Now I'm all in favor of observing warning signs. But I have to wonder about the sense of this particular sign. Does it accomplish anything whatsover?
Those of us who do, in fact, observe warning signs, at least most of the time, don't really need this reminder.
And those who do not observe warning signs would not be inclined to observe this one either.
So, no matter what, this sign is ineffective. Why spend the money? (I expect there is a reason buried within Texas political history.)
In general, it is a good idea to obey warning signs. In some cases, it will save your life. I think of a warning sign at Hanakapiai Beach on Kauai.  It reads:
HANAKAPIAI  BEACH WARNING!
DON'T GO NEAR THE WATER
UNSEEN CURRENTS HAVE KILLED
[marks to indicate number of dead]
VISITORS
When I was at Hanakapiai Beach in 1985, 82 people had died because they disregarded this sign. I understand that two more have been added to this list.
Would lives be saved if, next to the warning sign, there was another sign that read:
OBSERVE WARNING SIGNS

STATE LAW
??????