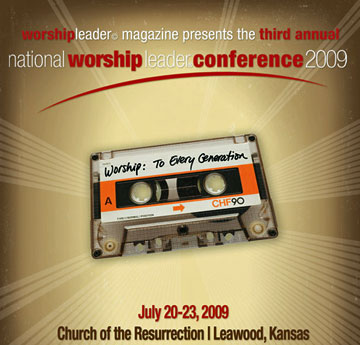 If you're a worship leader, a pastor, or a lay person who cares about the worship life of your church, I highly recommend the National Worhsip Leader Conference 2009.
Let me say up front that I am involved with this conference as one of the workshop presenters. It is sponsored by Worship Leader magazine, for whom I write a regular column.  So I do have a vested interest in this conference. But my partnership with Worship Leader reflects my excitement of their vision as well as the quality of what they do (publishing, conferences, etc.). Last year's NWL Conference was outstanding.
But my excitement for the NWL Conference reflects my enthusiasm for its content. No matter your particular form of worship, no matter whether you're denominational or independent, no matter your particular role in worship leadership, this conference has something for you. Just check out the list of workshops and you'll see what I mean.
Then there's the collection of resource people. Here are just a few of those who will be leading and teaching at the NWL Conference:  Michael W. Smith, Greg Laurie, the David Crowder Band, Marva Dawn, Tommy Walker, Todd Hunter, and Reggie Kidd. Honestly, I feel privileged to be part of such an incredible team of worship leaders and teachers.
The NWL Conference happens on July 20-23, 2009 at the Church of the Resurrection in Leawood, Kansas. It's fairly close to the Kansas City International Airport, which is just about in the center of the United States. (To be specific, Leawood is 200 miles from Lebanon, Kansas, the actual center of the contiguous United States.)
Maybe you're not a worship leader or a pastor or someone involved in the worship ministry of a church. Let me suggest that you consider giving a gift of this conference to your worship leader. Or perhaps you have a young, up-and-coming worship leader in your congregation. Why not get a few friends together and send him or her to this conference? I promise that you will not be disappointed.