During my recent sojourn in Dallas, I was surprised to see a giant inscription on the wall of the Dallas Morning News building.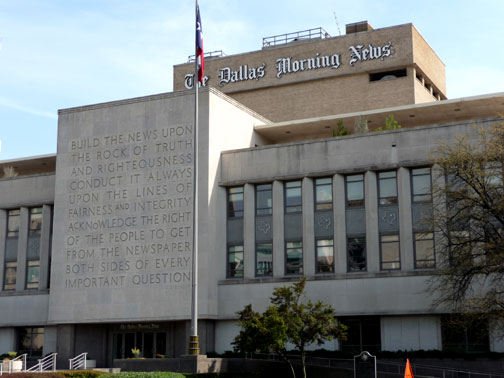 It reads:
BUILD THE NEWS UPON
THE ROCK OF TRUTH
AND RIGHTEOUSNESS
CONDUCT IT ALWAYS
UPON THE LINES OF
FAIRNESS AND INTEGRITY
ACKNOWLEDGE THE RIGHT
OF PEOPLE TO GET
FROM THE NEWSPAPER
BOTH SIDES OF EVERY
IMPORTANT QUESTION
According to the Dallas Morning News website, this inscription was based on an address to employees by George Dealey in 1906. Dealey was an executive in the company who said of the founders of the newspaper: "They built The News upon the rock of truth and righteousness, conducting it always upon the lines of fairness and integrity, and acknowledging the right of the people to get from the newspaper both sides of every important question." This became a guiding statement for the paper, so it was inscribed on the building when it was built in 1949.
I'm not familiar enough with the Dallas Morning News to know if they live up to this inscription. But I do know that it sure would be refreshing if more newspapers in America sought to follow Dealey's wisdom.