Yesterday I shared the distressing news that the "NCAA Disciplines Incarnate Word." And I never knew Jesus had a team!
My commenters got me inspired to look for other headlines with a religious theme. I found a few in several minutes of web surfing:
St. Joseph Beats St. Anne
St. Mel Ousts Holy Trinity
Doesn't speak well of St. Mel's theology.
St. Benedict Beats Holy Trinity
Richard Beats Divine Child
Trinity Ousts Harvard
For good reason, no doubt.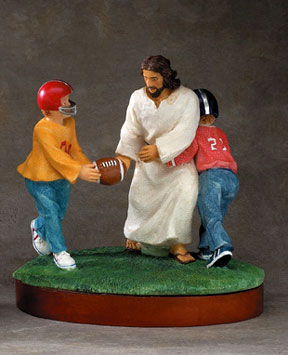 Saints double up on Blue Devils
As it should be, no matter the color of the devils.
Top-ranked Incarnate Word beats Lady Mules
Incarnate Word defeats the Lady Dustdevils
And tho' this world with devils filled,
Should threaten to undo us.
We will not fear for God has willed,
His truth to triumph thro' us:
The Prince of Darkness grim,
We tremble not for him;
His rage we can endure,
For lo, his doom is sure,
One little Word shall fell him.
(from "A Mighty Fortress is Our God")
Not good trinitarian theology, I'm afraid.  Must be some ancient heresy.
And, while we're at it, the photo to the right is a statue that you can purchase, if you wish. Check out Catholic Shopper online.