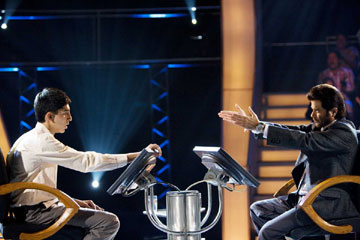 Slumdog Millionaire prevailed at last night's Oscars, winning eight academy awards, including Best Director and Best Picture. It beat a strong field of films, including my personal favorite, Frost/Nixon. But I was pleased that Slumdog Millionaire won. It's a fine movie, wonderfully filmed and acted.
Some of the promotional material for the movie proclaims: The Feel Good Movie of the Decade!  There is a sense in which this is true. But if you haven't seen the movie, I would warn you that it is not an easy film to watch. Though it is not sexually-explicit and the bad language is limited, Slumdog Millionaire deserves its R rating, in my opinion, because of its "violence and disturbing images."
Nevertheless, I would recommend this film to mature viewers because it tells a moving story. In some ways it is a love story. It also paints an engaging picture of a culture far different from the one I know. In watching Slumdog Millionaire, I found myself transported to a very different place and way of life.