For the past few days I've been weighing in on Advent, explaining it and recommending it for those who are seeking a closer relationship with God and a deeper experience of Christmas. Today I want to change gears and recommend another pre-Christmas tradition. This one isn't especially Christian, and it certainly doesn't have anything to do with Advent. But it's one of my cherished traditions, one that helps me "get in the mood" for Christmas.
For the past ten years or so, I enrich my December with a reading of Charles Dickens' A Christmas Carol. This is a delightful, moving book, one that always touches my heart and helps me to be a more given person in the Christmas season. Strictly speaking, I don't always read A Christmas Carol by sitting down and reading it with my eyes. Some years I listen to it on recording. I'll say a bit more about that in a minute.
Most years, I also watch a DVD of some performance of A Christmas Carol.  It's fun to see the different performances and interpretations. I enjoy the 1999 version with Patrick Stewart and the 1984 version with George C. Scott. Throughout my lifetime, I've seen at least fifteen stage presentations of A Christmas Carol. But, still, I like reading the book (or listening to it). All dramatic performances have to leave out some of the details that enrich Dickens' writing.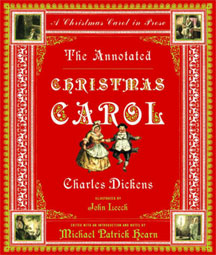 Now, I have three recommendations for your A Christmas Carol enjoyment.  First, the basic story by Dickens can be enjoyed by a fairly young child. It's simple and elegant. But if you read the book, you'll find lots of language that is hard to decipher. Sometimes you'll know the words, but not the reference ("Smoking Bishop," for example). Sometimes the words will be unfamiliar ("griping"). Plus, even if you know what the words mean, your reading would be greatly enriched if you had more knowledge of Victorian England. This can be marvelously found in The Annotated Christmas Carol: A Christmas Carol in Prose by Michael Patrick Hearn. This volume contains extensive commentary on the text of A Christmas Carol.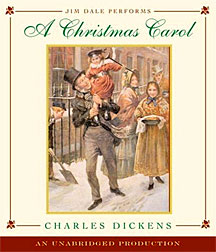 Second, if you want to enjoy A Christmas Carol in a different mode, listen to a good reading. You'll notice things that you won't get when you read the book with your eyes. There is an outstanding reading of the full book done by Jim Dale. An award-winning reader, Dale is best known for his masterful oral renderings of the Harry Potter books. I highly recommend this recording of Dickens' masterpiece.
Finally, if you like a hot Christmas drink and aren't averse to a bit of wine, I'd recommend that you enjoy your reading of A Christmas Carol while sipping a mug of Smoking Bishop. This curiously named drink appears in the Stave V of the book, after Scrooge's transformation. He says to Bob Cratchit: "We will discuss your affairs this very afternoon, over a Christmas bowl of smoking bishop, Bob!" You can find several different recipes online. Here's the one I like. (If you don't drink alcoholic beverages, you could easily adapt this recipe.)
So, I hope you find time in this busy season to enjoy the richness of A Christmas Carol. No "Bah humbug!" for you. Only "God bless us, everyone!"