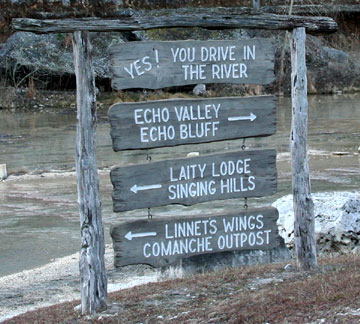 Perhaps one of the most distinctive features of coming to a retreat at Laity Lodge (and Laity Lodge Youth Camps) is the fact that you drive in the river to get to the retreat. No, you don't simply drive across the river. You drive up or down the river for anywhere from a quarter to a half mile, depending on which camp your attending.
If you're not familiar with the northern section of the Frio River, you'll be reassured to know that it's very shallow almost all of the time. Right now, because we haven't had much rain in the Hill Country in the last several months, the portions of the river where you drive are anywhere from an inch to three inches deep. If we get some badly needed rain, the depth will rise only a little. On rare occasions the river floods, but then only for short periods of time.
If you ever visit Laity Lodge, and I hope you do, you'll get to drive in the river. But for added fun, you can also walk in the river. Bring some good water shoes or decide to let your running shoes get a good bath. In the photo below, you can see my wife and daughter walking in the river, with a truck approaching from behind. The large stone blocks keep drivers from entering deeper sections of the river. Yes! You both drive and walk in the river.