Last Saturday I was driving from New Haven, Connecticut, to JFK Airport in New York. I got of the highway to grab something to eat. I ended up at Friendly's, one of my old favorites from my New England days. After lunch, I decided to make my way south along a scenic drive that bordered Long Island Sound.
Cruising along Beachside Ave. in Westport, Connecticut, I was marveling at the stunning homes when all of a sudden I saw something truly unexpected. There, in the front yard of a gorgeous home, as a giant eraser. It must have been at least fifteen feet tall. So I pulled over and snapped a picture. It's not every day you see an eraser of this magnitude in somebody's front yard!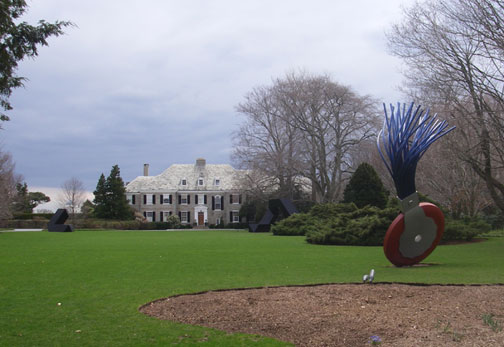 By the way, for those of you under twenty, this is what we used to call a "typewriter eraser." We used it to make corrections when typing. The bristle end allowed us to sweep the eraser shavings away from the typewriter mechanism.
When I got home, I did a little research on this giant eraser. Turns out it's a fairly well-known work of art by Claes Oldenburg and Coosje van Bruggen. It's called, appropriately enough, "Typewriter Eraser, Scale X." This piece (or another one just like it) has been displayed in the National Gallery of Art Sculpture Garden, the Olympic Sculpture Park in Seattle, and the IBM Building in New York City. The artists are well-known for their large sculptures of everyday items. Check out this page from their website (which, curiously enough, does not include the eraser).