Many of my readers will have heard the sad news of Dan Fogelberg's death on Sunday. He died after a three-and-a-half year battle with prostate cancer.

If you're under 30, you may never have heard of Dan Fogelberg. And, I'm sad to say, you may associate his music only with Muzak tunes. Fogelberg was a folk singer whose popularity grew in the 70s. While I was in college his first album, Home Free, was my favorite album. I probably listened to it 200 times. (Photo: Dan Fogelberg with his wife, Jean, in 2003. Photo from his website by Bernie Boyle.)
Fogelberg wrote soft rock ballads, rather in the mode of James Taylor. I enjoyed his love songs. But by far my favorite of his compositions was "Leader of the Band," a song Fogelberg wrote in honor of his father (on the Innocent Age album. For a touching interview of Dan's father Larry concerning "Leader of the Band," check out this link.) I first heard this song when my own father was struggling with cancer. Since his death in 1986, "Leader of the Band" has helped me to get in touch with ways I am like my own father and am, in a sense, his "living legacy."
When I heard about Dan Fogelberg's death, I felt sad over the passing of an artist who touched my life over so many years, mostly through his recordings. My wife and I once attended one of his concerts, driving from Los Angeles to Irvine, California (years before we lived there) during rush hour on a Friday afternoon. It took us more than three hours to make the fifty mile trip. We enjoyed the concert, nevertheless.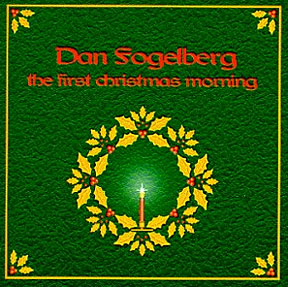 Examining Fogelberg's website, I was surprised to learn that he did a Christmas album: The First Christmas Morning (1999). It contains several Christmas favorites ("Hark, the Herald Angels Sing," "What Child is This?") as well as several original compositions. Ordering the album from iTunes (here's the iTunes link), I was not surprised to hear the first song, "At Christmas Time," celebrate the Winter solstice ("At Christmas time we raise our hearts and celebrate the solstice"). I have never had any reason to think of Fogelberg as a Christian, though his music had not offended my Christian sensibilities. But I was surprised when "At Christmas Time" ended with: "At Christmas time we praise the Lord and count His blessings so many.")
My surprise was multiplied by a couple of the original compositions on this album. Check out these lyrics:
"The First Christmas Morning"
Away in the east shines a star in the sky
That leads us to where He is born
And bearing good tidings and gifts we shall give
To Him on this first Christmas morning
To Him on this first Christmas morning
Holy our journey and holy our love
That takes us to find and adore Him
And blessed the baby that sleeps in his bed
And wakes on this first Christmas morning
And wakes on this first Christmas morning
Ahhh-Ahhh Alleluia
Ahhh-Ahhh Alleluia
Ahhh-Ahhh Alle
Ahhh-Ahhh Alle
Ahhh-Ahhh Alleluia
The Lord in His wisdom, the Lord in His grace
Has given to man a redeemer
To save us from sin and to show us the light
That shines on this first Christmas morning
And will shine ever each Christmas morning
"Christ The King"
Christ the King, born in a manger
Christ the King is born on this day
All of nature joins the rejoicing
Banish misfortune away
Banish misfortune away
Lift your voice, join in the singing
Lift your voice in a song of goodwill
Lift your heart to the glorious season
Bid all your sorrows be still
Bid all your sorrows be still
I don't know anything about Dan Fogelberg's religious faith. But these two songs certainly get the essence of Christmas, don't you think?
Thanks, Dan Fogelberg, for making my life richer, even today, as I listen to your sweet Christmas songs.