I've just finished my second week as the Senior Director of Laity Lodge. Though the retreat center itself is out in Hill Country near Leakey, Texas (population approx. 350), my offices are in Kerrville, a town of about 22,000 people on I-10, an hour west of San Antonio. (Check this map for details.)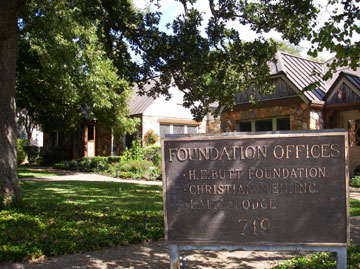 I thought it might be fun to show a few pictures of my new haunts in Kerrville. The first photo is the view from the street as you approach the H.E. Butt Foundation offices. The campus includes several quaint old homes that have been reconfigured for offices, along with other buildings. The sign to the right, which has been around for a while, includes "Laity Lodge" on the bottom line.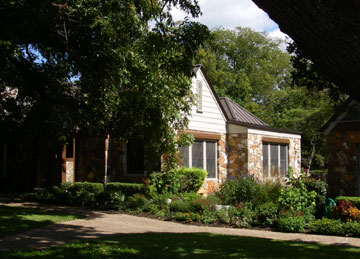 Here is a close up of the house in which the Laity Lodge team and I have our offices. This fine team includes: Steven Purcell (Director), Tim Blanks (Director of Operations), Dave Williamson (semi-retired Director and advisor), Ann Jack (Registrar), and Liz Wyall (Administrative Coordinator). We get lots of help from other Foundation employees who are housed in nearby quarters. My office windows are the ones farthest to the right in this picture.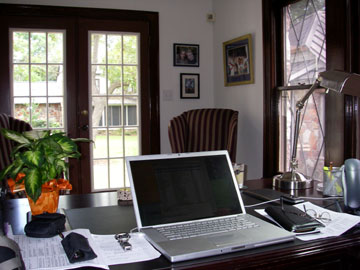 Here's a view of the inside of my office. I love the light streaming in through the windows. Plus, right outside of the French doors we get visiting deer. Didn't have that in Irvine! I'm not complaining, though, because I had a wonderful office at Irvine, one I'm proud to pass on to the next pastor. Nevertheless, now I feel blessed to be housed in such a verdant, pastoral setting. It sure helps the creative juices to flow!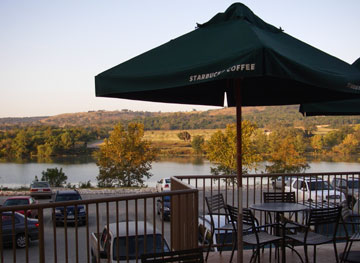 But, every now and then I still feel the need to get out into the world. The Starbucks in Kerrville has one of the best outside seating areas of any Starbucks I've ever visited, and that's quite a few stores. This particular Starbucks lies along the Guadalupe River, which passes through the center of Kerrville. Nothing like sipping a latté while sitting on the porch and enjoying the view! A fine spot for morning devotions.
In case you're wondering, yes, there is a McDonald's in Kerrville, and also a Chili's. No there is not an In-N-Out Burger (sigh!). But Culver's is represented, and their burger comes close to In-N-Out's. Culver's burger is called the ButterBurger, which doesn't exactly sound like health food. No sign of ButterBeer in Culver's, however.