Excerpt
There he broke the flashing arrows,
the shield, the sword, and the weapons of war.
Psalm 76:3
Click here to read all of Psalm 76
Prayer
O Lord, it seems sadly ironic that this psalm celebrates Your vanquishing the weapons of war in Jerusalem. Even today, this city You once chose for Your dwelling place is in the center of tension, a place where violence looms, a locus of hostility and division. The weapons of war still threaten Jerusalem and its people, much as they did ages ago.
There have been times, Lord, when You have broken the implements of warfare, times when You have granted peace to Jerusalem. The memory of these occasions is sweet, to be sure. But it also gives us a yearning for the peace yet to come. We long for the day when You will finally reign in full upon the earth, destroying weapons, decimating oppression, and ushering in the peace that You alone can give.
In the meanwhile, Lord, we celebrate what You have done in the past, even as we look forward to what is yet to come. We pray for Your kingdom to come. We pray for You to come. Maranatha! Come, Lord Jesus!
Postscript
Then I saw a new heaven and a new earth; for the first heaven and the first earth had passed away, and the sea was no more. And I saw the holy city, the new Jerusalem, coming down out of heaven from God, prepared as a bride adorned for her husband. And I heard a loud voice from the throne saying,
"See, the home of God is among mortals.
He will dwell with them as their God;
they will be his peoples,
and God himself will be with them;
he will wipe every tear from their eyes.
Death will be no more;
mourning and crying and pain will be no more,
for the first things have passed away."
Revelation 21:1-4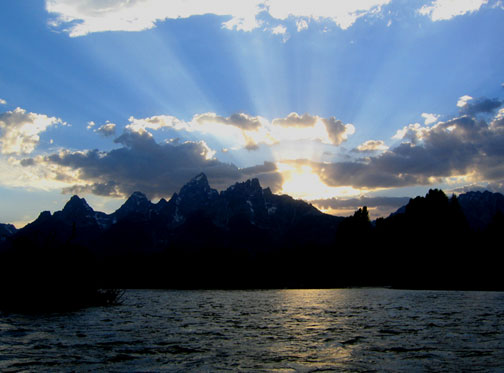 Glorious are you, more majestic than the everlasting mountains.
Psalm 76:4
Photo: Grand Tetons, 2004