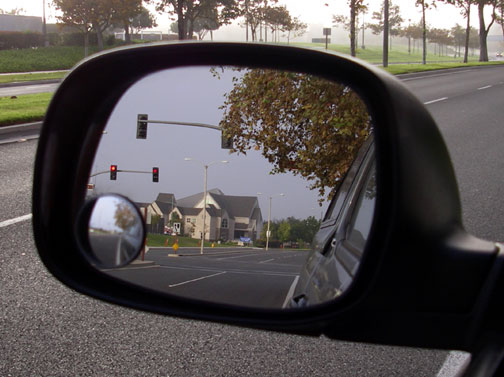 Part 1 of series: Grace in the Rearview Mirror: A Pastoral Retrospective
Permalink for this post / Permalink for this series
Two weeks from today I will be driving across Arizona on my way to Texas, having said goodbye to California and the life I have known the better part of two decades. After sixteen years and three months as Pastor of Irvine Presbyterian Church, I have taken a new position as Senior Director and Scholar-in-Residence for Laity Lodge, a multifaceted ministry in the Hill Country of Texas. (For more information on this new calling, check out my letter to my congregation. I'll blog about Laity Lodge down the road a piece. Photo to the right: The sanctuary of Irvine Presbyterian Church.)

As you can well imagine, I have mixed feelings about this pending move. On the one hand, I'm excited by the opportunities and challenges offered by Laity Lodge, and look forward to joining the great team of people there. Yet, on the other hand, I feel deep sadness about leaving my church, especially leaving the wonderful people here who have loved me and whom I have loved for the past sixteen years. I would always have hoped that when it was time for me to leave Irvine Pres, both my congregation and I would feel some sadness about it. I'm glad folks aren't cheering, happy to finally get rid of me. (Or, if they are, they're doing it in secret.) But the sweet sorrow of leaving is, understandably enough, both sweet and sorrowful.
It seems appropriate for me to compose some thoughts as I finish my ministry at Irvine Presbyterian Church. In the days ahead, I'll put up whatever strikes me as worth sharing with my blog readers. My hope in doing this is not only to do some personal reflection, but also to help others in their thinking about the church in general and pastors in particular. Most of my readers are not pastors, though quite a few are, actually. But most of my readers have pastors or priests, and are concerned about what happens in the church, at any rate.
I have entitled this blog series Grace in the Rearview Mirror: A Pastoral Retrospective. The "pastoral retrospective" part should be pretty obvious, since I'm going to look back at my sixteen years as a pastor. Ditto with the "rearview mirror" imagery. But you may be wondering why I've chosen the word "grace" to sum up my ministry at Irvine Presbyterian Church.
I'll begin to answer that question in tomorrow's post.