While in London, my wife and I visited several of the usual tourist sites: Westminster Abbey, the British Museum, Buckingham Palace, and the Tower of London. For those who haven't been to London, let me say that the Tower of London isn't a tower so much as an ancient castle. The Tower tour is both fascinating and humorous, especially if you have a quirky sense of humor.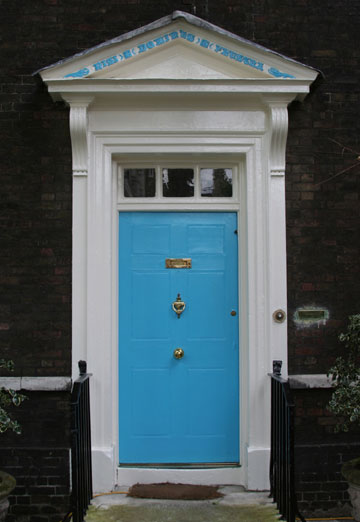 One of the things that caught my eye while we were touring the Tower wasn't mentioned by our guide. It was a sign over the door of the apartment of the rector of the Tower church.  Though it's hard to read in this photo, the sign says: NISI DOMINUS FRUSTRA. The Latin reads, literally, "Unless the Lord in vain." It's a summary of the first verse of Psalm 107 in the Latin Vulgate. In our translation it reads: "Unless the LORD builds the house, those who build it labor in vain."
What a great reminder in the midst of a historic building and a magnet for tourists! "Unless the LORD builds the house, those who build it labor in vain." Unless the Lord is working through me, my writing and my pastoral ministry are in vain. Unless I'm a channel of the Lord's wisdom and power, my efforts at parenting are empty. Unless I am God's servant living by His power and for His glory, my life lacks ultimate meaning and purpose.
NISI DOMINUS FRUSTRA. Now there's something worth posting above your door, on on your refrigerator, or whereever you might see it on a regular basis. Life without the Lord is in vain.