Permalink for this post / Permalink for this series
So far in this series on Sainthood, Service, and Suffering, I've explained how Christians are called to be saints, that is, to be set apart from the world for God and God's purposes. Yet, Christian saints do not live in seclusion from the world, or at least we should not.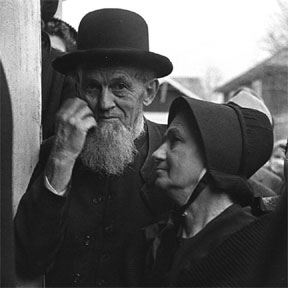 Certainly some Christians have separated themselves from common folk, living in cloistered communities without any significant contact with the outside world. I think of the Amish people, who have made an effort to live apart from the world even though they're in the midst of it. Unfortunately for them, their uniqueness has also made them popular among tourists who flock to so-called Dutch Pennsylvania to gawk at the Amish and their other-worldly ways. (The picture to the right is of an Amish couple from about 1940. See http://www.loc.gov/rr/
european/imde/germchro.html.)
Other Christians live in the ordinary world, but sever all meaningful relationships with non-Christian people. They want to live holy lives, and they recognize their tendency to be drawn into sin through their contacts with the world, so they decide to back completely away from significant interaction with non-Christian people and institutions.
Some of the Corinthian Christians tried this experiment. In a letter Paul wrote before our so-called 1 Corinthians, he had told them "not to associate with people who indulge in sexual sin" (1 Cor 5:9). The Corinthians took Paul to mean that they should have no contact with sinful unbelievers. Consequently they withdrew from their pagan neighbors and related only to other Christians. But in his next letter, which we call 1 Corinthians, Paul clarifies his teaching and corrects the Corinthian separatism. Concerning his earlier advice not to associate with sexually sinful people, he explains:
But I wasn't talking about unbelievers who indulge in sexual sin, or who are greedy or are swindlers or idol worshipers. You would have to leave this world to avoid people like that. (1 Cor 5:10-11).
The apostle states that we should not leave the world in an attempt to avoid pagan sinners. He assumes that our rightful place as saints is in the world, in relationship with sinners who have not experienced the forgiveness of Christ.
Paul didn't make up this idea. Jesus did. In the hours before his death, Jesus prayed for His followers, those who were with Him in the flesh and those who would believe in Him in the future (John 17:20). Jesus recognizes that His followers are special, that "they are not part of this world any more than I am" (John 17:16). This specialness will cause problems for them, because the world will hate them even as it hated Jesus Himself (John 17:14). But removal from the world is not an option, according to Jesus: "I'm not asking you to take them out of the world, but to keep them safe from the evil one" (John 17:15). In the classic phrase, we who believe in Jesus are to be "in the world, but not of the world." We must live in the world. We must have meaningful relationships with people in the world. But we must not be like the fallen world, adopting its godless values or its twisted activities.
Of course being in but not of the world is easier said than done. Sometimes the world and its ways seem strangely inviting. Even when we see the world's brokenness, we are drawn to participate in it. Yet in our desire to honor God, we also yearn to get away from that which tempts us. Thus it's tempting to pull away from the world, the very world into which we have been called as God's saints.
In my next post I will consider a fascinating example of somebody who sought to back away from this world, and reflect on the implications of this story for us.