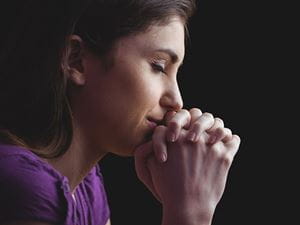 Shutterstock
Emotional healing is something that everyone needs, in one way or another, because someone has hurt all of us emotionally at some point. There are a lot of different versions of emotional brokenness and pain, just like there are different types of people. Whether the cause of your emotional pain is natural or because of another person's sin, the majority of people fight some emotional battle. However, healing from emotional distress or any pain is not a linear process. Some days you'll feel like you've reached your healing pinnacle, while other days, you'll feel like you're starting from step one. However, if you feel like you haven't been healed, you should take the first step to seek God. He is the ultimate healer and can help you through any of your struggles.
Symptoms of Emotional Distress
Some of the most common symptoms of emotional distress are sleeplessness, isolation, anger, depression, bitterness, fear, and frustration. The most familiar causes include abandonment, rejection, broken trust, and a sense of life's insignificance. The primary focus of today's society is on self and individualism instead of seeing the importance of community, which can cause some people to feel lonely or abandoned. When someone feels lonely or left, it can cause them to isolate themselves and feel like nobody cares about them. However, this isn't true because God always cares about you.
The reality is there is no easy or speedy path to healing. Some people may tell you that all you have to do is accept Jesus into your life, and suddenly, He will heal you of your ailments, whether they're physical or emotional. However, humans are flesh-based beings. Matthew 26:41 says that we must watch and pray so we won't fall into temptation. The spirit is willing, but the flesh is weak. This Matthew verse means that your soul wants to do the right thing, but the flesh might not always be ready. Paul was a biblical character that struggled with the flesh and discussed how the flesh tenaciously resisted the desires of his will and mind to follow God. Romans 7:18-25 describes Paul's battle with his spirit and his flesh.
Trusting God With Our Healing
Following God is the first step to emotional healing. Psalms 23:3 says that Jesus is the One who restores our soul and leads us on the path of righteousness for His name's sake. Luke 4:18 says that Jesus came to heal the brokenhearted, as well as to heal others. Healing is not a linear process, but it is still a process. Some people that healing takes place day by day, but that's still a bit broad. It involves moment-by-moment choices to trust and obey the Lord.
To truly heal, you have to choose healthy interactions with others, as described in 1 Peter 3:8-12. This verse says that we should repay evil with blessings and that we should be compassionate and humble. We must also choose to have healthy thinking based on the Scripture, described in Phillipians 4:4-9. Finally, 2 Corinthians 7:1 says that we have to choose healthy activities that help our bodies. This 2 Corinthians verse says that we must purify ourselves from anything that contaminates our body and spirit, perfecting holiness out of admiration for God.
Finding emotional healing can be challenging. If you feel like you're struggling with finding healing, here are some ways to obtain recovery.
Meditate on the Bible
The Bible is God's instructions on how to live our lives. Proverbs 4:21-22 says that we must give the Bible our attention, never take our eyes off it, and keep His words amid our hearts. Psalm 1:1-2 says that God will bless you if you meditate on His Word day and night. If you keep God's Word in your mind and heart, your emotional healing will come.
Confess Any Known Sins to God
God is faithful. He loves us, and He wants us to heal from our emotional pain. If we confess our sins to Him, He will forgive us and purify us from all unrighteousness. When we confess our sins, it's a way of turning over a new leaf and showing God that we are serious about our healing.
Take Control of Your Thoughts
Our thoughts have a way of playing tricks on us when we're going through emotional pain. Our beliefs tell us that nobody cares about us or loves us and that we should isolate ourselves. However, when these thoughts creep in, we must control them and tell ourselves that they aren't true. Another solution is allowing the Holy Spirit to take control of our thoughts. The Bible says that we take every thought captive and make it obedient to Christ by letting the Holy Spirit take over.
Refuse to Fall Back Into Old, Sinful Habits
Once we choose to receive our healing, we must choose every day not to go back into those old, sinful habits. Selecting a new life can be challenging, but healing comes with our day-to-day choices. Romans 6:4 says that our old lives died through baptism. As Jesus rose from the dead, we also rose from the dead with our new lives after baptism.
Forgive People Who Hurt You
This step may be the most crucial step when it comes to receiving emotional healing. To move into our new life, we must leave our old life behind and everything that came with it. To truly heal, you have to forgive people that hurt you. This forgiveness may come through an apology from the culprit, but that's not always the case. There will be times when you have to accept an apology from someone who never apologized.
Get Involved in a Bible Study Group
If your local church is offering a Bible study group or any class related to healing, you should consider joining and participating. Sometimes, the best way to heal is to talk about it with other people. Other participants could share some information that may be helpful to you, or there could be resources available that you didn't know were available.
Healing isn't something that can happen overnight. Healing comes with our day-to-day choices; To heal, we must actively choose it over anything else. If you feel like you haven't reached your healing yet, continue to seek God. Participate in Bible study groups and forgive the people that have hurt you. The biggest thing that God wants you to know is that you're not alone. He is always with you, no matter what you're going through.