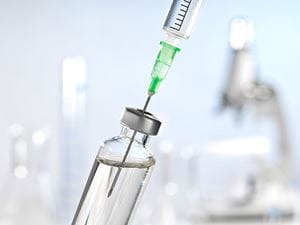 Shutterstock.com
The COVID-19 pandemic has been genuinely terrifying, particularly for those who fall into the high-risk category or who have loved ones who do. A recently published NBC News article shared that the U.S. surpassed 400,000 COVID-19 deaths nearly one year after the nation's first confirmed case. Now, as several vaccines for the general population have been released, there is hope for many Americans. Scientists say if enough people are vaccinated, there will be nowhere for the virus to go, and there will be few susceptible hosts left to infect. This is a way to achieve herd immunity without losing even more lives in the process.
While viruses are created to protect our health, a number of Christians have been against COVID-19 vaccinations. Two groups that have been particularly hesitant about getting vaccinated are white evangelicals and Black Protestants, though both groups are skeptical for different reasons.
Some evangelical Christians have subscribed to myths about the COVID-19 vaccine and the pandemic. Many of these same people have fueled misinformation campaigns and promoted conspiracy theories. Some critics have accused right-wing fundamentalist pastors of perpetuating baseless theories that are encouraging their congregants to ignore public health information. This includes unfounded theories like the vaccine is the mark of the beast and could even cause sterilization in women.
Some Black Protestants are concerned about getting vaccinated given their tarnished past with dangerous health policies and clinical experiments that have targeted vulnerable black and brown communities. Healthline sums it well, "From the Tuskegee experiments — one of the most disturbing parts of American medical history — to the economic and cultural inequities in the U.S. healthcare system that disproportionately harm Black and Latinx communities, there are very real reasons why some people might look askance with skepticism and fear at the new vaccines." Many of these concerns that are swirling around in many Christian communities beg the question, should Christians get the COVID-19 vaccine? The best place for Christians to get the answer to this question is by turning to Scripture.
God calls us to be faithful stewards of what we receive. First Corinthians 4:2 says, "Moreover, it is required of stewards that they be found faithful." This includes our bodies. As Christians, we should be mindful of what we put into our bodies and how we should care for our bodies. The Bible doesn't specifically address vaccinations as they were not available during biblical times. However, the Bible does give us great direction on being good stewards. As Christians, we are called to investigate, make informed decisions, and not take our life for granted. This is a good case for the COVID-19 vaccine and preventative medicine. Those who lived during biblical times did take what they had to cure illnesses and ailments. First Timothy 5:23 says, "No longer drink only water, but use a little wine for the sake of your stomach and your frequent ailments." This points to the importance of preventative medication during those times.
When choosing whether to get vaccinated, it should be an informed decision and not rooted in fear. Choosing not to be vaccinated during a global pandemic impact the well-being of your family, friends, and fellow neighbors. If we want to move forward from this virus, we need to take the pandemic seriously.
The Ethics & Religious Liberty Commission (ERLC) published an article titled "3 Reasons Christians Should Vaccinate With Confidence," addressing what Christians should do with vaccinations. The first reason they give for vaccinating with confidence is that science confirms the effectiveness and safety of vaccinations. According to the National Foundation of Infectious Diseases (NFID), childhood vaccines have prevented more than 100 million cases of serious disease. All COVID-19 vaccinations that have been released to the public had gone through extensive safety testing before they were licensed by the FDA and recommended for widespread use. The NFID says, "There are currently three systems in place in the U.S. to monitor the safety of vaccines after they are licensed and used among the public. These systems can monitor known side effects and detect rare side effects that may not have been identified during clinical trials." If a vaccine has been released to the public, it has gone through rigorous testing and is generally safe for use.
The second reason the article gives for vaccinating with confidence Is that we love our neighbors. God mandates that we love our neighbors as ourselves. When Jesus was asked "which is the greatest commandment in the law," He answered with two commandments – to love God and to love your neighbor as yourself. This means protecting your neighbor from sickness and harm. When a person chooses not to be vaccinated, they are risking the lives of their families and endangering the lives of all they encounter. Ultimately, being vaccinated puts your neighbor's life first and is for the public good.
The third reason the article gives for vaccinating with confidence is that we don't give into fear-mongering. There is a lot of confusion and misinformation concerning COVID-19 vaccines, and we should be aware of any agenda that exists to sabotage our public health and safety. We don't have to make any decisions based on fear. We can turn to God and trust in His counsels. We can do the same when it comes to counseling around the coronavirus vaccine.
There is a reason God has given us science, and there is a lot of good that comes when we take science seriously. We do have the right to refuse vaccination, but we also must accept the repercussions of these actions, not just in our own lives but the lives of those who matter to us. The same goes for when we choose not to vaccinate our children. If we choose not to vaccinate them, we will limit them from being able to participate in certain public institutions and could also be risking their safety. We have to remember that we are responsible for the outcome of these choices.