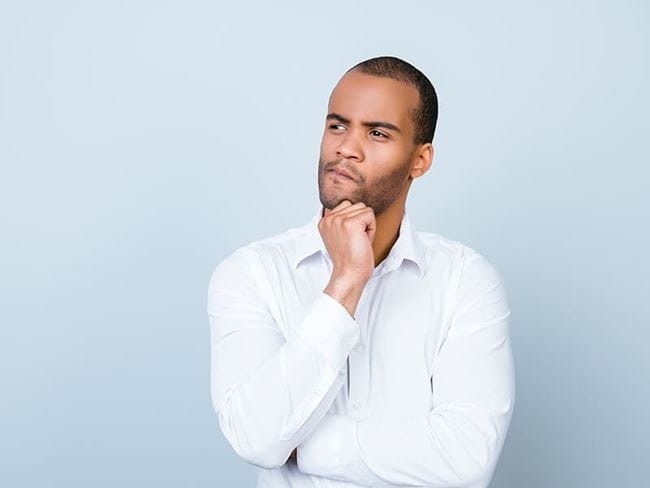 shutterstock.com
At its root, loneliness is the discrepancy between the level of social interaction and the amount one desires. Dr. Julianne Holt-Lunstad, a professor of psychology and neuroscience at Brigham Young University, explained that loneliness often occurs as an "adaptive response."
Some situations make men more prone to feeling lonely, and the stigma surrounding male loneliness often increases loneliness in men. While it's important to note that a man's gender isn't necessarily the direct or sole cause of male loneliness, it does play a role in many cases.
Being a man doesn't mean you're guaranteed to feel lonely all the time, but the fact is that many men are lonely. A 2019 study discovered that 32 percent of men in the UK didn't have anyone they considered a best friend, compared to 25 percent of women. The same survey found that 17 percent of men find it "very difficult" to make new friends.
Other studies suggest that men become increasingly lonely as they get older. A 2018 study discovered that 52 percent of men from 60 to 64 years old categorize themselves as lonely. However, it's hard to give exact statistics about how frequently men struggle with loneliness because studies show that men are less likely to report loneliness. In reality, loneliness is normal for everyone, including men, but the stigma of admitting it causes many lonely men to remain silent.
Why do men feel lonely?
Even though men might express their feelings of loneliness differently than women or gender non-conforming folks, they experience it for many of the same reasons everyone else does. Of course, there are also a few male-specific causes of loneliness in men. Reasons for male loneliness can include significant life changes, social anxiety, depression, physical or mental health issues, frequent social media use, among other reasons.
Whether you've just landed a new job, found a new hobby, or you're celebrating the holidays, it's nice to share parts of your life with people who care about you. However, many men struggle to find a sense of connection with others, and some may avoid marriage, even if it's something they want. Some may find it difficult to express their feelings of love to their partners, as well.
There's more than one reason why men may feel hesitant to open up to others. Unfortunately, this stigma against men expressing their emotions is widespread. One study explored the ways men seek (and find) support, discovering that although some men "actively sought emotional support" when dealing with feelings of loneliness, many of them "did not know how to talk about these feelings or felt embarrassed to do so."
Additionally, limited access to resources can make it difficult for men in marginalized communities to access quality care, and this frustration can lead to increased feelings of isolation and loneliness. As a whole, there are countless reasons why men feel lonely, but the fact is that many do, and often.
Signs of male loneliness.
The signs of loneliness in men can vary depending on the person and the situation. However, we know that men often express loneliness differently than women and gender non-conforming folks. There are a few particular signs of male loneliness to look out for, including isolating oneself from friends and family, not feeling connected with the people around you or not enjoying activities you usually enjoy, feeling unmotivated or unproductive, or feeling bored or disengaged frequently.
Most men don't talk to their guy friends about their loneliness, and if they do, they feel like they go unheard. Therapist Billy Roberts confirmed that men generally hesitate to express their feelings, particularly those of sadness, loneliness, or others associated with being vulnerable. He explained, "In my opinion, toxic masculinity is a primary reason for men expressing emotions less often than women. For men, vulnerability is often characterized as a weakness, as is asking for what one needs in a clear and emotionally mindful way.
According to data from 2019, men are 3.63 times more likely to die by suicide than women, and white men alone accounted for 69.38 percent of suicides that same year. These statistics are pretty startling, but they're a powerful reminder of why it's so important to be aware of the signs of loneliness in men and why it's essential to recognize when it becomes something more serious. Loneliness can be debilitating on its own, but it can also be a sign of depression or anxiety. Additionally, loneliness can contribute to feelings of worthlessness and hopelessness that people considering suicide might struggle with.
How can men ease their loneliness?
Admitting loneliness can be challenging, especially for men who still feel that expressing their emotions weakens them. However, you have first to acknowledge that you're lonely before focusing on coping. Finding meaning or purpose in life and having a social network can decrease feelings of loneliness.
After acknowledging your loneliness, the next step is to find meaningful ways to spend your time. Everyone will have definitions of "meaningful," but the most important thing is that you do something that matters to you. If you're not sure about what activities you'll enjoy or you're still discovering your passions, there are a few ways you can find out what might be meaningful to you. You can start by assessing your values and finding out what matters to you. Begin with asking yourself, "What are my top five values, and am I doing something every single day to honor them?"
When you discover the things in life that matter most to you, it'll likely become easier to connect with others, and yourself, on a deeper level. Another great way to ease feelings of loneliness is to communicate with others. Finding a friend you're comfortable talking to can help you feel less alone.
If you're struggling with grief or adjusting to a significant life change, consider checking out support groups. Depending on how intensely lonely you're feeling, you might also think about finding a therapist or counselor who can help you cope. Remember that asking for help isn't a sign of weakness. It's a sign of strength.
Visiting a doctor for a broken leg isn't a weakness, and you should look at your mental health the same way. As a whole, coping with loneliness takes time and effort, but you can, and should, take the steps needed to feel less alone.