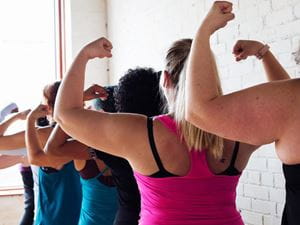 burst.shopify.com
God is more focused on our spiritual health than our physical health, but that does not mean that he wants us to be unhealthy or suffering from disease. The Bible says in 3 John 1:2, "I pray that you may enjoy good health and that all may go well with you, even as your soul is getting along well". While you may be incredibly spiritually strong, you need to glorify God through your physical health as well. The Bible teaches us how we should treat our bodies in a way that God intends.
Proverbs 3:1-2, 8 says: "My son, do not forget my teaching, but keep my commands in your heart, for they will prolong your life many years and bring you prosperity...This will bring health to your body and nourishment to your bones". God is able to help guide us to finding the nourishment we need to have our bodies thrive. As our Creator, He knows what's best for us: "Now all has been heard; here is the conclusion of the matter: Fear God and keep His commandments, for this is the whole duty of man" (Ecclesiastes 12:13). When we obey His instructions and commands, we are going to be in the best health we can be.
Exercise and Diet
God gave us our human bodies on earth and He wants us to take care of them. That means providing it with food that is nourishing and getting ample exercise. Neglecting or abusing our bodies can be considered a sin.
In 1 Corinthians 6:19-20 the Apostle Paul wrote: "Do you not know that your body is a temple of the Holy Spirit, who is in you?…Therefore honor God with your body". God lives within us, so we should treat the body we are given like a holy temple. God has a specific plan for how He wants to use our bodies for His greater purpose. If we are trashing our bodies with poor food, for example, we won't have the energy to spread His Word and do His work here on earth. Ephesians 2:10 remind us of this, saying "For we are God's masterpiece. He has created us anew in Christ Jesus, so we can do the good things he planned for us long ago."
The Bible is a great place to learn about how to take care of ourselves. In the Old Testament, there were many warnings of foods that may be harmful for example. It also speaks about how alcohol affects our bodies and minds negatively, and that is should be only consumed in certain situations. God knew, way before nutritionists exists, what we needed to be healthy.
Like most anything, humans can becoming too obsessed with their physical health to the point that they begin to idolize it. The Bible says in 1 Timothy 4:8, "Physical training is of some value, but godliness has value for all things, holding promise for both the present life and the life to come". There is a way to balance the different aspects of your life in a way that glorifies the Lord. You should make time to be mentally healthy, physically healthy and spiritually healthy all at the same time. Do not let one consume the other, or else you are not putting Jesus Christ in the center of your life.
Disease and Sickness
Exodus 15:26 says: "If you listen carefully to the voice of the Lord your God and do what is right in his eyes, if you pay attention to his commands and keep all his decrees, I will not bring on you any of the diseases I brought on the Egyptians, for I am the Lord, who heals you". The reasons that the ancient Egyptians suffered from so many diseases was because they did not understand the health principles God gave to Moses. Due to this, they were drowned in tuberculosis, bladder stones, smallpox, arthritis and the like.
Many interpret that this means non-Christians are doomed physically. The Bible shares that those who follow God will be generally healthy, but it doesn't mean that those who do not follow Him will always be sick or those who do follow Him will be free of all diseases. Even the most righteous will suffer at times because of sin. For example, Job was righteous but still suffered from health issues and hardship. No one that is going through life-long, chronic diseases should feel that they are being punished by God in any way.
God can perform miracles to make our physical health immaculate. However, that doesn't mean we should abandon any modern medicine or the study of human physiology. The knowledge we have now is because God helped guide medical professionals in the right direction. Many like to call God the Great Physician. He is able to work through doctors to change the lives of people for the better.
The Bible gave us instructions regarding physical health thoughts of years before scientists developed the technology. God is all-knowing when it comes to our health, and therefore all of the discoveries we have in modern day originate from Him. We now are able to fight off germs, bacteria, viruses and the like is because of His knowledge. Many researchers and medical doctors are stunned at the accuracy and effectiveness of its many provisions. The Wycliffe Bible Encyclopedia tells us that the laws given by God to Moses contain remarkable rules pertaining to public health which concerns us even today: water and food contamination, sewage disposal, infectious diseases, and health education.
God wants us to treat our bodies with the upmost respect and care. By giving our body's proper nourishment, our physical health will increase. Through that, God can use our bodies to spread the Word further than we ever thought possible, because we will have the energy to do so.