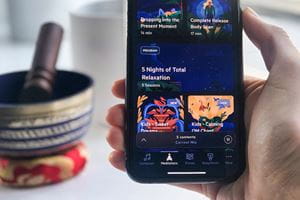 Relax Melodies Meditation App
These products were selected by StackCommerce, which created these articles. The products are not endorsed by the Beliefnet editorial team. If you buy something through these links, Beliefnet may get a small share of revenue from your purchase.
"If you lie down, you will not be afraid; when you lie down, your sleep will be sweet." —Proverbs 3:24
A night of sweet sleep is something we can all strive for, but sadly many of us do not receive it. An estimated 70 million Americans suffer from a sleeping disorder. In fact, one-third of adults sleep less than six hours every night. Poor sleep leads to the shutdown of essential proteins in your brain and leads to numerous health problems.
Sheltering at home sounds like an ideal condition for sleep, yet, as researchers point out, increased anxiety over the virus makes insomnia more prevalent. The 24/7 news cycle keeps us on edge. These are stressful times. Sadly, your mood is also negatively affected when you don't sleep enough.
Fortunately, there are ways to incorporate more sleep into your life. Structuring your day, enhancing your sleep environment, minimizing naps, and setting up a sleep schedule are all means for building a strong immune system with plenty of rest—exactly what you need during a pandemic.
Relax Melodies Meditation App is here for you. The app combines soothing sounds, bedtime stories, breathing techniques, and mind-body exercises to create your own perfect sleep ambiance.
Besides helping you overcome insomnia, Relax Melodies can aid you with tinnitus and nighttime anxiety while helping you lower everyday stress. All content and techniques in the app have been approved by sleep experts.
Relax Melodies Meditation App: Lifetime Subscription - $79.99
Rated 4.8 stars on the App Store and 4.6 stars on the Google Play Store, Business Insider calls Relax Melodies "The most positively reviewed app in the history of the Apple App Store." The Guardian chimed in, writing, "It's like a GPS directing you how to fall asleep."
Watch how it works here.
Relax Melodies Meditation App: Lifetime Subscription is on sale now for $124.99, a 68 percent from the original price.
Prices subject to change. This plan is only available to non-premium users.