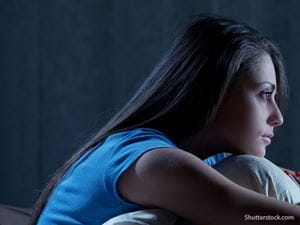 There are a number of things that may be causing you to lose sleep at night.
It could be work stress. You may think chasing success and looking to your career for fulfillment will leave you feeling energized, but the truth is, it does have its drawbacks. These habits can actually drain you and leave you sleep deprived. While work is a typical and necessary part of a person's every day, when work becomes your main focus, it can leave you sleep deprived and cause you to lose focus of other things far more important in life. If you're a workaholic, you're spending so much time focusing on work productivity that you become stressed. This can get in the way of a good night's rest.
Then, it could be relationship stress which can negatively impact your sleeping behavior. When a relationship is in trouble and individuals make a ton of excuses for those issues not only to others but themselves, they're only rationalizing why things are wrong, instead of making a real change to make the relationship better.
It could also be all the entertainment we consume, whether that be from our TV or our phone screens. We spend countless hours invested in technology. What you may not realize that this time can destroy sleep. Instead of resting when our bodies need it, we can't get enough of the funny videos or memes our friends post or our favorite show on Netflix. You probably told yourself you'd get off in a minute and the minute turned into a few hours. When you're finally ready to sleep, your body tells you it doesn't want to.
If you're dealing with financial stress, this could also be taking away from your ability to sleep. Everybody will deal with some form of debt or financial blow in their life. It's very easy to lose sleep when you're stressed about money. Financial issues will not only devastate you, it can also send you spiraling down into a sea of worry, anxiety and depression. When your finances are bad, you think you have nowhere to turn. Sometimes the stress that comes along with not having enough money can cause you to enter such a bad state that you can't even think about sleeping. The stress alone can lead us to a place where we're not even focusing on our health or well-being.
These are just a few things that can interrupt your ability to sleep. If you're having trouble laying your head down at night, the Bible is a great source of calm. We often talk about prayers before sleep but there are also a number of Bible verses you can read that will also ground you and give you rest. Here are five Bible verses to read before sleep.
Matthew 11:28
Jesus said, "Come to Me, all you who are weary and burdened, and I will give you rest" (Matthew 11:28). While we aren't promises a trouble-free life, God does assure us that He will be by our side, no matter what situations we face. If your day was especially stressful, this verse will remind you of Jesus' presence. Our days may bring us exhaustion, but it does help to know that we are not alone.
Philippians 4:6
The Bible tells us "Do not be anxious about anything, but in everything by prayer and supplication with thanksgiving let your requests be made known to God" (Philippians 4:6). We all know, this is easier said than done. Sometimes, it's hard to let go and let God. Anxiety and fear are ruthless and can sabotage our lives if we allow it. This includes are sleeping. If you are chronically fearful or discouraged, you start to believe that you can't get out of your problems. You also begin second guessing anything good as troubled or flawed. While you will face trials and deal with problems that present discouraging situations, remember that God is there guiding you with open arms, even when you think He's not. Remembering this alone may be able to help you sleep better.
Psalm 46:1
The Bible says, "God is our refuge and strength, an ever-present help in trouble." By definition, a refuge is a safe place. When the Bible describes God as our refuge, it is saying that God is our safe place when we need protection from something. Knowing God is our refuge enables us can help us sleep easier. We need not fear situations that we may encounter tomorrow. There is no situation we will ever face that is out of God's control, so the best place to be, always, is right with Him.
James 1:17
James 1:17 says, "Every good and perfect gift is from above, coming down from the Father of the heavenly lights, who does not change like shifting shadows." It's important that we acknowledge the Creator of all things for everything we receive – true blessings to us. All that we have is a reminder of God's ever-flowing Grace. Taking time out to read the Bible, pray and meditate before sleep is a great way to acknowledge God and also ensure that we get good rest.
Psalm 94:19
Psalm 94:19 says, "When anxiety was great within me, your consolation brought joy to my soul." What this Psalm tells us is that even in rough or desperate situations, we can be filled with the joy of the Lord. He is our consolation and His Word eases anxiety like nothing else can. God can bring joy to your soul even during times when you're most anxious by simply knowing that He's present and trusting in His power. This is certainly a blessed assurance before we lay our head down at night.
It's important that before we go to sleep, we give thanks to God for all that we've experienced. It's also a good time to ask God for peaceful rest and a fresh start for tomorrow. If you've ever found yourself wanting to come up with a great prayer before sleep, but are just too exhausted to find the words, you are not alone. If you are looking for original prayers, it's not always easy coming up with the right words. Turn to Scripture and call on God to move your words. He is just a prayer away.