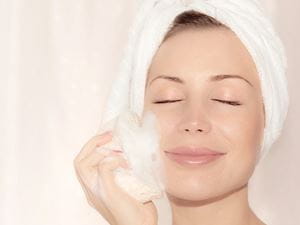 Shutterstock.com
Are you battling dry, lackluster skin? Do you also begin your day by counting the frequent acne breakouts on your face? You're not alone. We're all in the same boat, and it's drowning! Blame it on pollution or your procrastinating self, but skincare always seems like an exhausting chore. Sure, daily trips to the spa sound heavenly, but let's face it, no one has that kind of time at their disposal. You need reliable, time tested, and proven effective skin care hacks to win your day when you wake up to unsavory skin problems like acne, dryness, rashes, etc. Hence, here are some quick and practical beauty hacks that will make you and the people around you go wow - every time.
Battle Dry Skin and Exfoliate
A layer of dead skin cells
block the skin pores
and keeps the excessive oils locked in. Well, no time like the present to start spring cleaning the skin! Exfoliating the skin removes the dirt and impurities deeply trenched in the pores. The result is almost instantaneous - your skin is brighter, lighter and smoother. Apply a creamy exfoliating gel generously on the dry skin. Let it rest for about five minutes and then pull it out carefully.
It's a good idea to lean over the bathroom sink when the product flakes away. Wash away the excess cream with lukewarm water as it leaves your skin soft and clean. Follow up with a coat of serum or some moisturizer to prevent dryness.
Balms Are Your New BFFs
The summer months are especially cruel to the skin. The harmful radiations of the sun can cause irreparable damage to the skin leaving it dry and flaky. Use a good sunscreen (preferably with a high SPF depending on your exposure). It keeps the skin moisturized and protects the face and hands from tanning. Also, keep a multi-purpose anti-septic balm handy.
You can use the balm for chapped lips, dull cuticles and even grooming eyebrows. You can also use the lotion to tame your frizzy hair and keep it bouncy and shiny. The Obagi lip balm is organic and suitable for all skin types. The moisturizer by the same brand efficiently lightens the skin tone and removes all traces of fine lines and wrinkles.
Concentrated Cosmetics Make Your Skin Glow
Is age finally catching up with you? The wrinkles on your skin are tell-tale signs of your age. Beauty products from brands like Foreo and PMD Microderm offer concentrated treatment for the skin. The bio creams contain the essential vitamins and antioxidants that flush out the excessive wastes from the skin pores. And the results are visible pretty fast! Most skincare regimes by these cosmetics take a month to show effect and show concrete results.
If you follow the routine stated meticulously, it works wonders on smoothing out the saggy eye-bags and fine lines. Detoxifying creams, face-lift cosmetic treatments, and age-defying skincare products are some of the products you can check out. Rest assured, these regimes are easy to follow and don't have dietary restrictions (unless specifically mentioned).
Cleansing the Skin Before Bed
The face is exposed to dust, pollutants, and impurities all day. We're all familiar with the ritual of cleansing, toning, and moisturizing before going to bed. And if you don't have time to do all that ensure that you wash your face thoroughly before you retire for the night. Sleeping in with your makeup on can cause severe acne breakouts and pimples on your skin. And refrain from using just about any bathing soap, try out a branded face wash instead.
Choose a face wash that is suitable for your skin type. If you don't have the time to wash away the makeup, you can use a face wipe or spritz some face mist. It rejuvenates your skin, leaving it fresh, clean and glowing in a matter of minutes.
Always Carry a Serum
If you have sensitive skin, then seasonal changes are probably the worst time of the year for you! So, if your skin gets a bit unpredictable during spring or you're prone to allergies then we're here to help. The outermost layer of the skin protects the sensitive inner layers from excessive exposure to the sun. The serum is used to strengthen the skin's natural barrier against bacteria and impurities in the environment.
There are loads of serums both for the hair and the skin that smoothen out the frizz and rejuvenate the skin immediately. The serum is also applied to inflammation, rashes and dry skin. Opt for an organic or natural serum cream. Neocutis bio creams, for instance, are well-suited for all skin types- sensitive, oily and dry.
Some Lifestyle Changes
You can try out all the beauty products you want, but it all goes to waste if you don't adopt some fundamental lifestyle changes. Yes, you need to change your sleep cycle,
follow a healthy diet
and give up on a few bad habits if you want healthy skin. A good night's sleep can do wonders for those baggy eyes and dark circles. A balanced diet with plenty of nutrients keeps your skin glowing. Also, keep yourself hydrated. Drink lots of water; we know that this is probably the most common skincare hack you'll ever hear, but we repeat it because it's just that important.
Skincare is a tough job. What with all the pollutants out there, the skin is at risk of some severe damage. However, with a few simple hacks, you can quickly repair the damage done to the skin. We share a love-hate relationship with our skin. On some days you're flawless fair, the very next day there's an acne breakout. What's a girl to do?! Don't worry; we got you covered. These skincare hacks are super easy to follow and work almost instantly in making your skin glow. Try these out today and bid the final farewell to nagging skin care troubles.