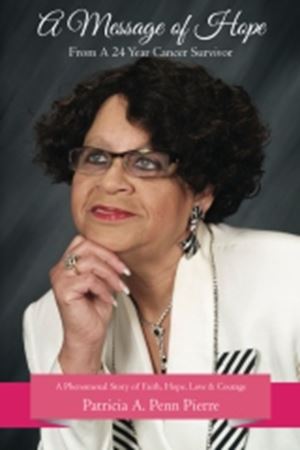 Excerpted from: A Message of Hope from a 24-Year Cancer Survivor: A Phenomenal Story of Faith, Hope, Love and Courage
Patricia A. Penn Pierre faced a life changing situation in 1987, when she was diagnosed with breast cancer. In "A Message of Hope from a 24-Year Cancer Survivor: A Phenomenal Story of Faith, Hope, Love and Courage", she shares how her faith in God helped her through one of the toughest periods in her life.
She shares personal details in order to help those diagnosed with cancer, caregivers, family members and other readers keep a positive view about what they are going through. She hopes her testimony will serve as encouragement to readers going through the same thing or at least a difficult period in their life. She also wants to raise awareness and let those with cancer know that they are not alone. With chapters such as "Early Detection Will Increase Your Chances for Survival" and "Take Action Now!," this inspirational memoir will also arm readers with helpful tips and powerful knowledge.
"As a two-time breast cancer survivor, I could really identify with the author of this book. Not only did the story of her journey through cancer remind me of my own, it also reminded me of God's guiding light through all of the challenges of breast cancer treatment. I only wished I had this book when I was first diagnosed," wrote Lynn Bell, one of Pierre's readers from Texas.
From Page 11:
"The more I cried out to GOD, the smaller my challenge became....because I knew that HE was the one and only one who could fix this. I'm talking about the God who created heaven and earth.....the sun....the moon...the stars and all the life in the universe. The TIMEKEEPER who controls night and day and every breath we take....and how long we can stay."
From Page 18:
"If cancer is detected anywhere in your body, you and your doctors have to be more aggressive than the cancer. You have to declare war on this cancer immediately. This is not the time for a "pity party." It's not the time for the "why me Lord" conversation. It's time to (1) locate (2) isolate (3) terminate and (4) eliminate any and all opportunities for that cancer to continue its path of destruction."
From Page 31- The 23rd Psalm:
Here is one of the reasons why I was not afraid…… "Yea, though I walk through the valley of the shadow of death, I will fear no evil; for thou art with me; thy rod and thy staff they comfort me." "As you continue to read my testimony, you will know that everything in the 23rd Psalm has been activated in my life. And Since God is no respecter of person, the promises in this 23rd Psalm can be activated in your life as well."
From Page 21:
" First Things First: The very first thing I decided to do was to move from the driver's seat--to the passenger seat and ask God to take over the driver's seat because we were about to travel down a rough and dangerous road that I had never seen."
Thanks.....and I sincerely hope that this book and my testimony will encourage others to continue moving forward with GREAT EXPECTATIONS.
Read about this amazing journey!
About the Author: Patricia A. Penn Pierre is a New Orleans native. She was diagnosed with breast cancer in 1987 and turned her fears, worries and doubts over to God. Throughout Pierre's journey, her faith in God and the love and strong support from family kept her strong.