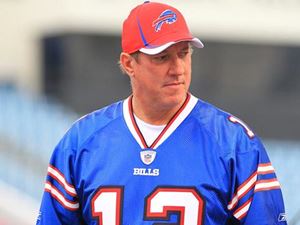 Pro Football Hall of Fame quarterback Jim Kelly was diagnosed with cancer, according to published reports Monday. The announcement was made before The Kelly For Kids celebrity golf tournament.
Tests showed the cancer was isolated to Kelly's upper jaw bone and the 53-year-old is expected to undergo surgery on June 7 with his prognosis being "very good."
"This past couple of weeks has been difficult for me and because of the nature of social media I thought it would be best to share with everyone what has been going on with my health. I was recently diagnosed with Squamous-cell carcinoma of the upper jaw bone," he said in a statement. "I have undergone tests which have shown that the cancer is isolated to my upper jaw and has not spread to other parts of my body."
After founding Kelly for Kids, Jim and his wife, Jill, founded the Hunter's Hope Foundation in 1997 when their son Hunter was diagnosed and died of a fatal nervous system disease. The goal of the foundation is to support other families and help fund research on Krabbe Disease and related Leukodystrophies.
Kelly is confident that the support of his family, faith and determination will prevail.
"With the excellent medical care that I will be receiving and the loving care of my wife Jill and my daughters Erin and Camryn and the support of my entire family and friends, I am extremely confident in my road to recovery. I plan to tackle this challenge head on, as we Kelly's always do, with toughness, perseverance and faith. I want to thank everyone who has offered their prayers and would appreciate any prayers said for me and my family moving forward. May God continue to bless you and our family."
Kelly led the Bills for 11 seasons, recording 237 touchdowns, taking his team to four-straight Super Bowls before retiring in 1996. He was inducted into the HOF in 2002.
The scripture on the Hunter's Hope Foundation's site was Jeremiah 29:11. "For I know the plans I have for you," declares the Lord.
"Plans to prosper you and not to harm you, plans to give you hope and a future."