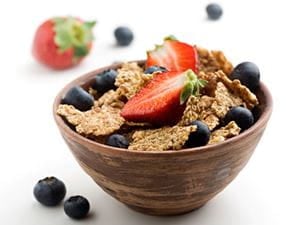 "What we eat determines the quality of our blood, which has a direct effect on our blood vessels and the heart," says nutritionist and yoga instructor, Christa Orecchio. "Blood vessels carry oxygen-rich blood, nutrients, minerals and vitamins to all areas and organs in the body. Improving circulation, blood quality and flow will take your vinyasa to an entirely new level."
Christa recommends incorporating some of these foods into your diet for a blood-building boost: Turn over a new leaf "Dark leafy greens such as kale, broccoli sprouts, spinach and collards detoxify the bloodstream, improve respiratory function and create a feeling of lightness."
Dance with antioxidants "Antioxidant-rich foods create greater blood flow and boost new healthy cell growth, thus improving the cardiovascular system. Try adding in the powerhouses like raw cacao, the acai berry, blueberries, prunes, pomegranates, kale, brussels sprouts, beets and red bell peppers."
Get to know turmeric "Turmeric contains curcumin, the single best food substance to reduce inflammation. Sprinkle it on your rice or beans, or make a healing tea out of fresh turmeric root. Peel, slice into quarters and pour hot water over three, quarter-sized slices."
Here are some other foods that can boost blood circulation: Garlic relaxes blood vessels, making it a good choice to thin blood and improve circulation.
Onions contain sulfur compounds, which help to maintain platelet aggregation, blood pressure and total cholesterol. Fiber from beans, peas and legumes are important complex carbohydrates that stabilize blood sugar.
This article was provided by alignyo.com , an online community connecting you to yoga. Our mission is to make yoga fun and accessible for everyone. We provide advice and recipes to fuel your practice, the latest yoga product reviews, curated at-home videos and local class suggestions. Everything you need to get on your mat. All rights reserved.