Depression is one of the most common mental disorders. According to the World Health Organization, major depression affects more than 16 million American adults each year and more than 264 million people worldwide. One of the scary facts about depression is that it can affect anyone, at any age, at any time of life. Christians are not immune from depression. It can be challenging for Christians to cope with depression. Many Christians associate depression with weakness. They think they are not strong in their faith if they battle depression, and some even believe it's a sin. Thankfully, God gives us several examples of biblical figures who wrestled with depression and won. We can learn a great deal from their experiences and see that we have the power to overcome them.
---
Jeremiah

sweetpublishing.com
Jeremiah is one of the major prophets of the Bible. He also suffered with depression and great loneliness. Jeremiah is recognized as the "weeping prophet," because of the difficulties he encountered, described in great detail in the books of Jeremiah and Lamentations. Jeremiah wrestled a great deal with loneliness, insecurity and feelings of defeat. He was constantly confronting rejection by those he reached out to and those he loved. While he was called by God to preach, he was forbidden by God to marry and have children of his own. This means that he lived and ministered by himself. He was also rejected and mocked by those around him. While he had to confront depression head-on, he still maintained great strength and spiritual faith. Jeremiah 31:16 tells us, "This is what the LORD says, 'Restrain your voice from weeping and your eyes from tears, for your work will be rewarded,' declares the LORD…." Jeremiah 33:3 continues, "Call to me, and I will answer you and tell you great and unsearchable things you do not know." Jeremiah fully trusted in the promises of the LORD and was an excellent example for it.
---
---
Jonah
Pieter Lastman/WikiCommons
Jonah was one of the early prophets. While his story in the Bible is short at only 48 verses, it is one of the most influential books in all of scripture. God told Jonah that he needed to go to Nineveh and preach about repenting and turning back to God. Jonah was against the idea of showing the people of Nineveh grace. At first, he decided to do it his way, refusing to listen to God. Later, Jonah repented of his sin of disobedience. God told him again to go to Nineveh, preach repentance and the power of turning back to God. This time, he followed God's direction and the people of Nineveh turned their lives around.
Jonah's depression was a result of a spiritual problem. His depression was a result of his resentment, lack of forgiveness, ill will and jealousy that God would offer other people what he wanted solely for himself and his people. We discover through Jonah's story that holding onto anger, prejudice, hatred, jealousy and unforgiveness only further separates you from God. What Jonah's story teaches us is that we can be transformed through our repentance. It also shows us that God's grace is powerful as it gives us the space to forgive.
---
Martha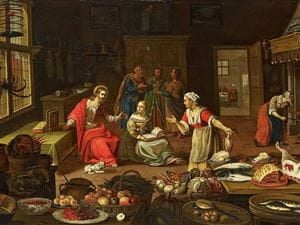 Wiki Commons
Martha is introduced to us in the New Testament as a friend of Jesus. While she is only mentioned in scripture three times, she is significant. Martha lived in Bethany with Mary, her sister, along with her brother, Lazarus. You are probably familiar with Lazarus as he is the man Jesus raised from the dead. The story many people associate her with is in the book of Luke. In this story, Martha is in Bethany, a small town close to Jerusalem. There, she is hosting Jesus and his disciples. When Jesus came by her home to visit, Martha was focusing on her priorities as a hostess. Martha felt as though her sister was distracted, as she was taking time away from hosting by listening to Jesus. Martha was dealing with her own feelings of depression and anxiety, something many of us can connect with. Scripture tells us, "Martha, burdened with much serving, came to [Jesus] and said, 'Lord, do you not care that my sister has left me by myself to do the serving? Tell her to help me.' The Lord replied, 'Martha, Martha, you are anxious and worried about many things. There is a need of only one thing. Mary has chosen the better part, and it will not be taken from here.'" At this moment, Martha was made aware of the importance of balancing worship and service. This is an excellent takeaway for us as believers.
---
---
Job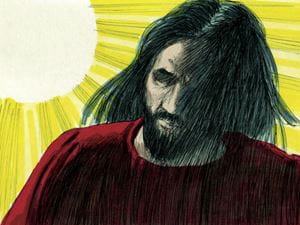 Jim Padgett/WikiCommons
Job is a biblical figure who suffered from depression after countless personal losses. The first thing he lost was his material possessions. Next, he lost all of his children. After this, he was devastated by a dreadful physical affliction that caused him to break out in painful boils. The enemy was confident that he could push Job to curse God. While Job cursed the day of his birth, he didn't even come close to cursing God. He kept the faith. Job is enduring a battle he can't even explain. He can't understand why God is allowing this suffering. However, Jon's endurance in these circumstances glorified God. It showed satan that God's people serve Him, not because of physical and spiritual benefits, but because of who He is.
---
David

Gerard van Honthorst/WikiCommons
You may think that kings are immune to depression, but they aren't. According to Acts 13:22, King David was a man after God's own heart. As referenced in the book of Psalms, David's anxieties stemmed from several causes. If you have ever dealt with depression, you know that is often the result of things like faintness of heart, obsessive fear, sleepless night and endless days just to name a few. As you run through the Psalms, you can see that King David also suffered from these systems. While he suffered from anxiety and depression, he was still able to sing praises to God. He praises God in the midst of his trouble. Psalm 34:1-4 says, "I will extol the Lord at all times; His praise will always be on my lips. I will glory in the Lord; let the afflicted hear and rejoice. Glorify the Lord with me; let us exalt His name together. I sought the Lord, and He answered me; He delivered me from all my fears." Psalm 34 reminds believers that we should praise God through the good and bad times. This may mean praising God when we are walking through our darkest valley or when we have found the light at the end of the tunnel.
---
---
Moses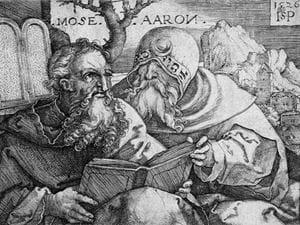 Public Domain/Wikicommons
If you know anything about Moses' life, it probably comes as no surprise that he battled depression. Not only was he warn out, but he was also weary. There were so many things he was struggling with. When God first approached him in the desert in the form of a burning bush, and asked him to deliver the children of Israel out of Egypt, Moses told God he wasn't equipped for the Job. However, God insisted he was, and Moses followed this cal. Moses was obedient to God, returning to Egypt and winning the support of his people. While Moses had done everything right to the best of his ability, things went wrong. Moses cried out to God in despair and hopelessness. He felt that God had let him down. While this may sound like defeat, it wasn't. Moses' entire ministry came into existence as a result of crying out to God and trusting His call. No promise land would have been found had Moses not put his total trust in God.
---
Elijah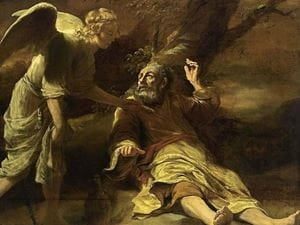 Ferdinand Bol/WikiCommons
Elijah grew depressed after he was rebuked after foreseeing a moment of triumph. His hopes were crushed, and he became sick physically, mentally, emotionally and spiritually. Prior to this point, Elijah had been the picture of spiritual courage. Then, at this low point, he collapses, running away from Israel when they need his leadership the most. He even becomes suicidal after suffering from spiritual anxiety. This is the kind of anxiety that involves our commitment to God. Elijah's depression, along with many of the other biblical characters previously mentioned, lets us know that being committed to God doesn't omit us from depression. It also shows us that we can get through our battles when we hold onto God.
---
---
There is so much we can from the stories of these seven biblical figures who battled depression. While their suffering was immense, they were victorious in their battles because they placed their total faith in God. Even when all the chips were down, they trusted God would bring them through. The Bible encourages us to work through the struggles we face by concentrating on God. When we do this, we can find ultimate victory.