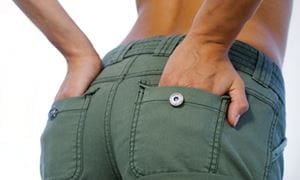 Move over J-Lo. Having a fabulous booty is not limited to celebrities anymore.
Americans are
shelling out thousands to undergo a Brazilian butt augmentation and shaking their derrières with confidence--about 10,000 of them.
Between 2010 and 2011 the procedure was the highest growing above all cosmetic procedures in the US. Surgeons also over that time saw up to a 75 percent increase in patients looking to undergo the surgery to the average cost of 8,475.
The goal of implants is to contour, lift, and lessen dimples using liposuction fat transfer and silicone implants with a week to 10 days worth of recovery time.
According to a report from the American Society of Plastic Surgeons 15.1 million cosmetic surgeries were performed in 2013. An estimated 10,000 butt augmentations were performed, jumping from 16 percent in 2012 and in 2013 there was a 68 percent increase alone.
Non invasive procedures like laser hair removal, chemical peels, and Botox did well last year. ASPS President Robert X. Murphy, MD said in a press release that the demand for plastic surgery remains strong overall, including in increase in neck surgeries. Within a year span, about 55,000 people had a neck lift (2012-2013).
"Facial rejuvenation procedures were especially robust last year, with more Americans opting for facelifts, forehead lifts, eyelid surgery, fillers and peels. With new devices and products hitting the market each year, there are more options and choices available to consumers wanting to refresh their look or a little nip and tuck."
Breast reconstruction surgery rates also rose last year with breast cancer patients having more options and information available to them as compared with 1998 where 46 percent of women decided to have reconstructive surgery.