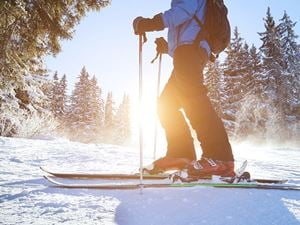 Shutterstock.com
Oh no, it is winter again! Get out the blankets, the hot toddies, and the heavy coats as it looks like we will be camping in for months. You are not alone. According to a Gallup Poll, 36 percent of Americans love the spring, while 27 percent prefer fall, 25 percent summer and just 11 percent like the winter! If winter is your least favorite season and it depresses you, let's look at ways to give it a jolt of energy as there are many things you can do. Join friends, family or go on your own, there is no excuse sit around like a hermit until April. Try to mix it up this winter and get moving. Build a snowman or snowwoman. Go skiing or go sledding. Maybe have a beach party (inside of course). Nonetheless, don't let Jack Frost keep you from having a blast. Here are 10 winter pursuits that you can enjoy/
Enjoy the holiday lights.
Go on a family drive to see the decorative lights in the neighborhood or in the city. Check out the Biltmore Italian Garden in North Carolina with a hot beverage and enjoy the decorations or the scenery. It comes only once a year, so get going to view the wonferful festivities of December. 
Take a course.
Author William Blake said: "In seed-time learn, in harvest teach, in winter enjoy." Enjoy this time to take a course at a community college to learn new literature, learn a new language or learn how to paint. Get a group together and start a book club, anything to keep the mind stimulated. This will keep you occupied until spring.
Learn a sport.
Book a session with a private coach to learn how to ski or learn how to ice skate. There are plenty of winter packages for beginners. Book a time for a small group to make it more appealing and to keep you motivated. By getting the proper techniques it will help you feel more comfortable with the winter sport and it will give you confidence. This will also give you something to look forward to.
Get outside.
The Mayo Clinic recommended that we need to get out in the fresh air. Outdoor light can take the edge off those winter days, even if it is cloudy. Walking gets you out and promotes an outlet for exercise during the winter. There is more to this than just walking as it also promotes more creativity. "About 50 percent higher on creativity tests after spending four full days in nature without any electronics," Real Simple reported.
Cook up a favorite dish.
If you are housebound you can do a cooking day. You can choose a theme like Mexican and make tacos, nachos and margaritas. Add a little Mexican music to the mix and you got one heck of a fun time. Try an easy Mexican bean casserole to get started:
Sprinkle the zucchini slices all over with 1/2 teaspoon salt. Set aside. Stir together the beans, pico de gallo and oregano in a medium bowl.
Arrange the following in layers in a 9-inch deep-dish pie pan or 10-inch round microwave-safe dish: 4 of the tortilla halves, one-third of the bean mixture, one-third of the zucchini and 1/4 cup of the cheese. Repeat twice, while packing down the layers. Sprinkle with additional salt and the remaining 1/4 cup cheese.
Microwave on high until the zucchini is fully cooked, about 10 minutes. Remove from the microwave and loosely cover with foil to finish the cooking process, about 5 minutes. Invite people to enjoy!
Have a beach-themed party.
Create a party that reminds you of the summer! It is a tease, but tropical drinks, tropical music and a movie can transport you into another world. Here are other decorations that may help. Purchase beach towels, beach balls and fill a kid's pool with them. Don't forget to make the fruit kebabs with tropical fruits like strawberry and kiwi.
"We never have enough time to be with the people we care about, make winter a time to reconnect."
Set up a time to socialize.
Set up a time to meet family and friends for a social hour at a restaurant. This can be a big feast or drinks at a small cafe. Doing this will require you to leave the house when you really don't want to. When it gets warmer our schedules become tighter since there is more to do. We never have enough time to be with the people we care about, make winter a time to reconnect. "By setting aside time each week to chat with someone at a distance, you can keep those relationships vibrant and present," Beliefnet shared.
Revamp your style.
Create a new you to welcome the winter. Go bold, go sleek or go casual. Change your hair color, lipsticks and blush for new colors to give you something to look forward to. Dump old lipliners and eyeliners. Replace old brushes or wash them. While we are at it, take yourself out for a date.
Travel alone.
We all need to get away. When we travel with another you are restricted by varying opinions or distractions.
Nothing is more liberating than traveling on your own. It's a time to not be rushed while soaking up another culture or to be worried about displeasing someone because of different interests or fluctuating moods.
Start giving.
There is nothing wrong with taking care of yourself, but if you help others, it can be more rewarding. There are studies now to back the science of giving, and yes, we mean giving money as well. Giving will put a smile on your face more than the temporary satisfaction of spending it on yourself. Harvard Business School found: "Money may not buy you love but it might buy you happiness if you spend it in the right way." Look for someone to bless this winter. It can be buying a meal, paying a electric bill or volunteering at a shelter.
Winter does not feel bad after all, does it? Make it a point to create new traditions during the colder months that will prevent you from dreading it every year.