Did you know that the average American produces about 4.40 pounds of garbage per day, according to the EPA? Plastic bottles, glass jars, cardboard, old clothing, and more are filling up our landfills and there is no sign of it slowing down. Recycling is a great way to reduce some of the waste heading to landfills, but an even better way is to upcycle. This means instead of throwing away your junk, you keep it for a second use or as a decorative item. You might not think some of your trash is worth saving, but there are many ways you can reuse it.
So next time you go to throw something away, pause and think what other use it could be to you. You will save money and lessen your footprint on the earth by doing so. Here are some brilliant ideas that you can begin using today.
---
Household Cleaner Bottles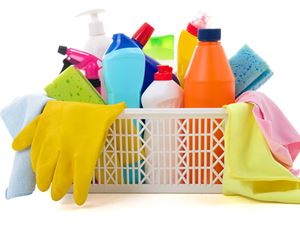 Shutterstock.com
It is easy to buy the small bottle of Windex or other household cleaners every few months. These containers are easy to handle and great to store under kitchen and bathroom sinks. However, these cleansers and liquid soaps are much cheaper in the long run if you buy them in the large containers. Next time you run out of your favorite cleaning product keep the bottle. At the store, buy the large container of the product that you can store somewhere in your house. Then, refill the smaller plastic container back up each time it runs out. If you choose to refill the used bottles with your own homemade cleaners too, you'll save even more money.
---
---
Plastic or Glass Food Containers

Pixabay.com
Most people simply toss away used food containers. However, items such as butter and cottage cheese containers come in various sizes and can be ideal for keeping leftover meals fresh in the refrigerator. You can take an old plastic soda bottle and use it to store your dry spaghetti pasta, for example. The only important thing to note is not using them in the microwave. If you don't like the idea of reusing the bottles for good, there are other great ways to use them. Plastic bottles can be stuck in tall boots to keep them upright so they do not crease. Glass bottles also are great for making your own custom candles, or for creating little planters throughout your home.
---
Gift Bags

Pixabay.com
Some items are just too pretty to throw out. When you get a fancy gift from someone you love, rather than throwing out the wrapping or bag it came in, fold it up nicely and save it for another use. By passing on the nice wrapping on to someone else, you help to eliminate trash while also making someone else's day. Keeping gift wrapping will also ensure that you always are prepared for the next big special occasion. If you aren't someone who likes to use wrapping paper or gift bags as it is, using old fabric as wrapping paper is a huge trend in places like Japan. It's called the art of Furoshiki. Use pinking shears to cut apart old clothing into squares.
---
---
Old T-shirts and Other Clothes

Pixabay.com
Other than gift wrapping, old t-shirts and clothes that have been worn well past their prime can be of great use in the home. If it is a clothing item you cannot donate, it doesn't mean it can't find a purpose. Old socks, for example, are great to put over your hand and use as a duster in between your blinds. Old t-shirts also are great for dusting bigger areas. T-shirts are also great to have on hand when you are doing home projects that will get you dirty, including gardening, painting, or carpentry. T-shirts are also great to have on hand as rags all throughout the home for a wide range of messes and tasks.
---
Food Scraps

Pixabay.com
Cooked too big of a meal or have leftover fruit and vegetable cores? Do not just toss them in the trash. American's are the biggest culprit for food waste, so consider being a solution to the problem by composting your extra food. Composting is the natural process of decomposition and recycling of organic material into a rich soil known as compost. Fruits, vegetables, dairy products, grains, bread, eggshells, meats and even newspaper can be composted. If you are interested in making your own compost, there may be local farmers in your area or home gardeners that would be happy to take the extra food off of your hands. Composting helps the environment through water and soil conservation, protecting groundwater quality, and reducing fertilizer requirements.
---
---
Toothbrushes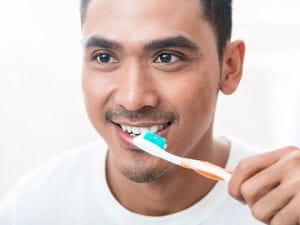 Shutterstock.com
Dentists recommend that you replace your toothbrush often, but what are you supposed to do with all that extra plastic? Rather than throw it away after you're down brushing your teeth, save them to become cleaning tools. Toothbrushes are small and compact which will allow you to reach tiny spaces other brushes can reach. For example, it can be used to clean bathroom and kitchen grout, computer keyboards and other electronics, or be used for shoe polishing. Even electric toothbrushes are great as cleaning tools because they have the vibration already built in. If this is not something you need then consider switching over to a bamboo toothbrush as they impact the environment less than a plastic one does.
---
Old Furniture

Shutterstock.com
Have old furniture you want to get rid of? Before throwing it in the dump, consider giving it a facelift to breathe new life into it. A lot of times, a fresh coat of paint and or a change of hardware is really all the piece of furniture needs. Old shutters could be used to create a unique headboard with a good coat of paint. An old cabinet can become a bathroom vanity and give the space some unique antique charm. Old chairs can become reupholstered too so that they match the new look you are going for in your home. This will also save you from going into debt by putting new furniture on your credit card.
---
---
Old or typically one-use items are easy to just throw away, but they contribute to our constantly growing landfills. Rather than sticking things in the trash, consider upcycling them for additional use. This will help eliminate the amount of waste you create and make a positive impact on the planet.