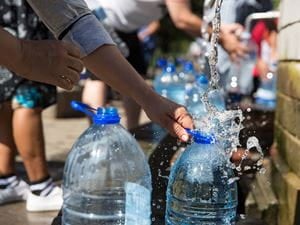 Shutterstock.com
Look around just about any place where there are lots of people—and you're apt to see some of them carrying bottles of water.
Nowadays, most of us know how vital it is to continually replenish the water in our bodies. It's hard for us to imagine not having reliable access to water at all. But that's what millions of people in the developing world face every day.
According to the World Health Organization (WHO), 159 million people get their drinking water from surface sources. They might walk for miles each day to a pond that's contaminated with disease. Or they might rely on a stream that goes dry half of the year.
Even worse, more than half a million people die each year from diarrheal diseases—caused by unsafe drinking water.
Against this backdrop, some important organizations around the globe are fighting back—many of them compelled by their Christian faith. They're drilling wells, distributing water filters, training people in water maintenance and hygiene. And they're making a difference.
Faith-based organizations have the advantage of seeing and addressing the spiritual needs of people along with their physical needs. Believing that all people are created in God's image, they're compelled to treat them with respect and dignity, as whole human beings. That can make their efforts especially effective.
Here are ten faith-based nonprofit groups working to bring clean water to people who need it.
World Vision
One of the world's largest non-governmental organizations, World Vision works in more than 100 countries, focusing on child sponsorship, disaster relief, economic empowerment—and helping to provide clean water. Along with individual donations, this venerable nonprofit is able to leverage grants from large organizations, including UNICEF.
Gospel for Asia
Since 2007, this Texas-based organization has worked with local Asian villagers to install wells in poor communities. During 2018, they installed 4,712 clean water bore wells in Asia. To ensure reliable water year-round, Gospel for Asia workers drill up to 600 feet down. To keep costs low, they obtain their well components from local suppliers and use local contractors. Remarkably, they can install a complete "Jesus Well" for only $1,400. Gospel for Asia also makes and distributes portable, affordable filters that can purify contaminated water. In 2008, Gospel for Asia provided nearly 11,451 Biosand Water Filters for Asian families.
Generosity.org
As its name suggests, this organization emphasizes the biblical virtue of giving as an antidote to the world's suffering. Philip Wagner, pastor of Oasis Church in Los Angeles, founded the nonprofit in 2008 after seeing a UN report on the global water crisis. Since then, Generosity.org has helped more than 470,000 people with over 800 water projects.
Blood-Water
A uniquely-named nonprofit, Blood-Water helps people and organizations in Africa, providing "technical, financial, and organizational support to strengthen their reach and effectiveness to the communities they serve."
Lifewater International
Bill Ashe of San Luis Obispo, California owned a water pump business. In 1962, his Christian faith led him to volunteer his expertise to a Mexican orphanage, fixing their windmill hand pumps. That led to a ministry in Latin America that has since spread to Africa and Asia. Now, Lifewater provides wells , water technology, and training in hygiene and sanitation to 2.5 million people in 45 countries.
The Water Project
In 2006 pastor Peter Chasse took some students from New Brunswick, Canada to meet a specific water need in Kenya. That experience sparked their passion to bring clean water to more people. Since then, The Water Project has launched hundreds of projects throughout sub-Saharan Africa.
Water Mission
As Christian nonprofit
Water Mission
offers equipment, technologies and consulting services to other organizations around the world. In 1998, Milly and George Green of Charleston, South Carolina visited Honduras to help repair the devastation caused by Hurricane Mitch. As owners of an environmental engineering company, they realized they could have a powerful effect in other places too. The result was a ministry that's reaching needy people in 55 countries with clean water.
Living Water International
This organization also began with a group of Christians traveling to Kenya—in this case, from Houston, Texas. Since that trip in 1990, Living Water International has launched more than 20,000 water projects in countries throughout Africa, Asia and Latin America. Beyond drilling wells, the nonprofit trains volunteers and professionals to drill and maintain their own wells, and in hygiene and sanitation. water.cc
The Last Well
The African country of Liberia has been torn by civil war and ongoing poverty. One of the lingering problems is a lack of clean water. Texas pastor Todd Phillips felt moved to help and founded The Last Well in 2008. So far the organization has launched 8,000 water projects, helping 2 million Liberians in the process. The goal is "Water for all Liberians by 2020."
Each of these organizations relies on the donations of caring people like you to continue their work. That's how you too can join the fight for clean water.