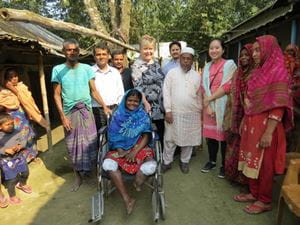 effect:hope
Would it surprise you to know that 1 in 6 people around the world are affected by something that is not a household name? Neglected tropical diseases (NTDs) impact 1.7 billion people worldwide, yet many in Canada and the USA have never heard of them.
NTDs are a group of 20 preventable, treatable diseases that can rob people of their health, livelihood and sense of dignity. These diseases include some you may have heard of, like leprosy, dengue, and rabies. Others, like soil-transmitted helminthiasis, Buruli ulcer, and lymphatic filariasis are lesser-known.
We call these diseases 'neglected' because they don't receive as much attention as other diseases, and they unjustly affect the world's forgotten. Neglected tropical diseases have mostly been wiped out in the global north due to strong public health and standardized infection control methods, such as clean water and sanitation infrastructure. Untreated, these diseases cause disabilities, disfigurement, cognitive problems, rejection, and death.
Shumi knows what it is like to live with an NTD. When Shumi was just a child, she noticed some unusual things happening. It started with a light patch of skin on her arm that had never been there before. Then, she noticed that her fingers couldn't feel the heat from a pot on the stove anymore.
At age 10, a traditional healer in her village confirmed what Shumi had suspected. She had leprosy. Left untreated, leprosy causes nerve damage that leads to loss of mobility and dexterity, it can create permanent disabilities and it can cause blindness. It is feared and people with this disease endure discrimination.
Shumi's family did not allow her to live in their home, instead, she stayed in a shack outside. She was just a child, but the fear and stigma that comes with leprosy took over. Nobody cared for her. The medicines the healer prescribed did not work, and she developed permanent disabilities - she crawled on her hands and knees.
Shumi is just one of the 1.7 billion affected by NTDs. But there is hope for Shumi, and for people with these diseases.
Effect Hope, a Christian Global Health organization is one organization that is working to overcome NTDs. With their partners, Effect Hope identified Shumi and helped her to be admitted to a local hospital for treatment and care. Shumi learned to use a wheelchair so she could move around easily and look after herself. Today, Shumi is doing well and has a restored relationship with her family.
The global effort to overcome NTDs is gaining momentum. Before the pandemic, 500 million fewer people require interventions against neglected tropical diseases than in 2010.
But COVID-19 has created unimaginable challenges for people affected by NTDS and the global effort to support them. Those with NTDs are at a higher risk of contracting and dying from COVID-19, have lost jobs and are facing higher levels of ultra-poverty. Now, due to discrimination and poverty, they are last in line for COVID-19 vaccines.
That's why Effect Hope has turned its attention to India, a country deeply affected by NTDs and, currently, the epicentre of the COVID-19 outbreaks, "As followers of Jesus, our mission is to bring hope and restoration to people affected by neglected tropical diseases like leprosy," said Kim Evans, CEO of Effect Hope. "We want to ensure that these vulnerable people are not forgotten in the race to get vaccines out. It's simply the right thing to do. We cannot stand by and watch them die.
Since launching the campaign in May, Effect Hope and a partner on the ground have already helped 4000 people with leprosy get access to their first dose of the COVID-19 vaccine. The goal is to reach 5,000 people with two doses. It costs Effect Hope $35 to provide the support required for one person to receive transportation to the vaccine site, registration, and both doses of the vaccine. There is an urgent need for funding.
There are two tangible ways that you can support our Indian brothers in sisters affected by leprosy and other neglected tropical diseases during this deadly wave of COVID-19.
1) You can pray. It's a simple act that costs nothing but can have such a powerful outcome.
2) You can find an organization that is supporting this important effort, like Effect Hope, and donate.
To learn more about how Effect Hope is helping people with leprosy and other neglected tropical diseases to access their COVID-19 vaccine in India, visit https://effecthope.org/vaccination