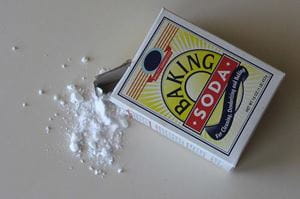 What's that smell? Not us! We've been on a mission to find the best natural deodorant that could keep us feeling fresh and clean without coating our armpits in sketchy ingredients.
After a series of sweaty vinyasa classes, these chemical-free, aluminum-free and vegan deodorants passed our test.
Just say no to b.o.:
So pHresh and so clean
pHresh deodorants glide on smooth and are made with 100% natural vegetable and plant-based ingredients. We love the unique scents like tropical blossom, sugar mint and the sweet-but-not-too-sweet crème brûlée.
Holla for soapwalla
Soapwalla deodorant cream contains vegetable powders, clays and essential oils to absorb moisture and stop the spread of odor-causing bacteria. Not sure about using an underarm cream? Soapwalla's deodorant dries fast and has a subtle lavender peppermint scent.
DIY deodorant
We asked our Facebook community to tell us their favorite natural deodorant brands and were pleasantly surprised when one fan, Angelina Gorni, commented and shared how to make your own natural deodorant.
Here's her DIY deodorant recipe:
• 1 Tbsp. coconut oil
• 1 Tbsp. coconut butter or shea butter
• 1 tsp. cornstarch
• 2 tsp. baking soda
Melt all ingredients in a small pot over low heat until liquid. Pour into a glass container or a small recycled deodorant applicator (with cap off) and refrigerate until solid.
Angelina also recommends adding a few drops of your favorite essential oils to the cooled liquid. Store in a cool dry place.
This article was provided by alignyo.com , an online community connecting you to yoga. Our mission is to make yoga fun and accessible for everyone. We provide advice and recipes to fuel your practice, the latest yoga product reviews, curated at-home videos and local class suggestions. Everything you need to get on your mat. All rights reserved.