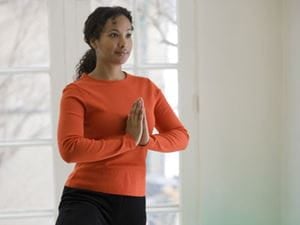 These books are so good, you might want to grab a copy for yourself:
Cooking with a yogaview
The yogi who finds serenity in preparing a meal using local, organic ingredients, will love Claire Mark's Cooking with a yogaview. Comprised of recipes from teachers, students and friends of Chicago's yogaview studios (including some of the city's most lauded chefs), this cookbook has something for every diet and palate. We love it, not only for the recipes, but for the sense of community found on each page.
Mama Glow
This is the gift to get any new mom or mama-to-be on your list. NYC yoga instructor, holistic health coach and "maternity lifestyle maven" Latham Thomas' Mama Glow book includes over 50 recipes, DIY body care treatments to alleviate pregnancy discomforts and of course, yoga practices to help women feel empowered during and after pregnancy.
Get Some Headspace
For the overworked and stressed out person on your list, help them find quiet and calm in just 10 minutes a day with Andy Puddicombe's Headspace mindful meditation technique. Bonus point for your tech-savvy friend: Puddicombe has a Headspace app and the book also includes access to meditation podcasts.
Alignyo, is an online community connecting you to yoga. Our mission is to make yoga fun and accessible for everyone. We provide advice and recipes to fuel your practice, the latest yoga product reviews, curated at-home videos and local class suggestions. Everything you need to get on your mat. All rights reserved.