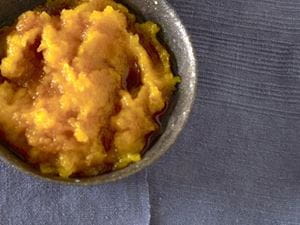 What do celebrities eat at holiday parties? We asked alignyo contributor, Joe Sponzo for the inside track. As Sting and Trudie Styler's personal chef for over 15 years, he's helped the couple celebrate the season with festive and healthy recipes. Make Joe's vegan and macrobiotic Sticky Brown Rice Balls, a dish he served at Sting and Trudie's last party. Every bite you take, every ball you make - will be a hit. Grab the recipe below.
Have a ball at your next holiday party:
Balance it out
Joe says it's important to balance out the sugary desserts and heavy protein meals of the holidays with more alkaline foods. "The last gathering at Sting and Trudie's home was for 35 people and I served 15 different small plates. It was balanced with acid and alkaline foods so guests had a beaming evening and an energetic morning."
A sticky situation
Joe says if you snack on these brown rice balls throughout the day, you'll eliminate sugar cravings and have long-lasting energy.
Sticky Brown Rice Balls with Tahini Dressing
2 cups cooked short grain brown rice
2 umeboshi plums OR
½ avocado OR
Cooked leftover vegetables, minced (steamed sweet potatoes highly recommended)
2 sheets of nori
2 tsp. toasted brown and black sesame seeds (Gomasio)
With wet hands, divide the rice into 10 portions and form into balls. Press about a quarter of an umeboshi plum (Joe recommends this option for the best yin and yang balance), avocado, or leftover sweet potato into center of the ball and seal the hole with the rice. Cut the nori sheets into quarters and lay out on a dry board along with the sesame seeds. Roll half the balls into the sesame seeds. Place the remaining balls onto one sheet of nori. Place another sheet on top. Press the corners onto the sides of the ball. Squeeze so that all the nori sticks to the rice. Serve with the tahini dressing.
Tahini dressing
2 tsp. Tahini
4 Tbsp. spring water
½ tsp. shoyu (or soy sauce)
2 tsp. lemon juice
1-2 tsp. honey
½ garlic clove, place through a garlic press or mince
Place all ingredients in a bowl, mix thoroughly to combine and serve.
Bet on brown
Brown rice has protein, B vitamins, minerals and magnesium. Once digested brown rice breaks down to glycogen in the bloodstream, providing muscular energy.
This article was provided by
alignyo.com , an online community connecting you to yoga. Our mission is to make yoga fun and accessible for everyone. We provide advice and recipes to fuel your practice, the latest yoga product reviews, curated at-home videos and local class suggestions. Everything you need to get on your mat. All rights reserved.