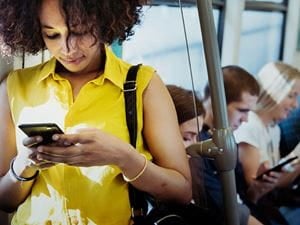 Shutterstock.com
You've decided that you want to start going to therapy. Now, you have to find a therapist, but how do you go about doing so? Finding the right therapist is the first hurdle to cross, whether to rebuild a relationship, recover from trauma, adapt to a new life phase, or enhance your mental health.
Researchers believe that the bond between you and your therapist will likely affect your growth. That's why it's essential to do your research, ask questions, and pay attention to your responses in your search for the therapist that's right for you. Here are some tried-and-true methods for finding a therapist to help you reach your therapeutic goals.
Check your insurer's directory.
If you want to pay for therapy through your insurance plan, your first step should be to look through your plan's provider network. That way, you'll get a good idea of who your insurance covers and what they provide. It would also be helpful to determine if your plan limits the number of sessions you can go to each year and whether using an out-of-network therapist will affect your out-of-pocket costs.
Use a dependable online database.
Several mental health organizations provide up-to-date, searchable databases of licensed therapists. Your search could begin by typing in your ZIP code to produce a list of counselors near you. You may also be able to look for specialists, like marriage and family counselors or therapists who focus on drug and alcohol use. Some database examples include the American Psychological Association and the American Association of Marriage and Family Therapists.
Think about what you want to accomplish.
What do you want to achieve in therapy? Research has found that your attitude will be better when you and your therapist work together toward the same goals. If you believe medication may help with your symptoms, try finding a psychiatrist or practitioner who can prescribe medications.
Let's say you've learned that cognitive behavioral therapy or Eye Movement Desensitization and Reprocessing therapy have been helpful for others with your condition. In that case, you should look for a therapist with certifications or specialized training in those treatment methods.
What if you want to join a supportive network of people who understand your experiences? In that case, you may want to think about looking for a therapist who's involved with support groups or group therapy sessions. Your goals may change as you work with your therapist. It's okay to talk to them about changing the direction of your treatment plan as your needs change.
Check out local resources.
The first place you should consider for therapy suggestions is the community around you. Your community may provide resources to help you. If you're a student, your school might give you access to a counseling center. Your human resources team might offer a list of therapists available through a workplace wellness or employee assistance program if you're employed.
If you need counseling linked to domestic or sexual abuse, you might be able to find a group or individual therapy through a local advocacy organization. If you want your faith to advise your treatment, consider reaching out to your church, synagogue, mosque, or other worship centers for a list of licensed therapists affiliated with your faith. Your worship center may even offer some therapy or support groups.
Contact organizations that address your area of concern.
Suppose you're looking for a therapist to help with a specific mental health issue or disorder. In that case, it may be helpful to consider finding a therapist through a national network, association, or helpline.
A few examples of organizations that offer search tools to help you find a specialized therapist near you include the National Eating Disorders Association, the National Center for PTSD, and the Anxiety and Depression Association of America. If your job causes stress and anxiety, you might find local therapists through a professional organization.
Several of these organizations and trade unions have resources to help you identify professionals who can help with mental health needs. For example, the International Association of Firefighters offers help with mental health, PTSD, and substance abuse.
Try an online therapy app.
Betterhelp and Talkspace offer resources to help you discover the kind of therapy you want. They can also match you with a licensed, accredited therapist you can work with online or via phone. Some people find a digital therapy platform more accessible and affordable than in-person therapy. Weekly sessions range from $35 to $80 for online treatment. At least one study found that people with depression felt that their symptoms improved after online sessions. It's worth noting, however, that two of the researchers involved with this study were consultants or employees of the digital therapy provider used.
Ask questions about the things that matter to you.
Whether online, on the phone, or in person, it's not uncommon to completely forget every question you want to ask when you meet with your therapist.
To ensure you have the information you need to make the right decision, keep paper and a pen or a notes app handy for a few days before you meet. Write down questions as they come to you.
The American Psychological Association suggests a few questions for you to consider asking your therapist during your first session:
Are you a licensed psychologist in this state?
How many years have you been in practice?
How much experience do you have working with people dealing with [the issue you'd like to resolve]?
What do you consider to be your specialty or area of expertise?
What kinds of treatments have you found effective in resolving [the issue you'd like to work out]?
Whether you're coping with grief, trauma, relationship issues, or want treatment for a mental illness, finding a helpful therapist can change your voyage. To find a good fit therapist, start by considering practical matters like licensure, insurance coverage, location, and specialties.
Ultimately, finding the right therapist is all about what you're dealing with and your goals. Human connection is at the heart of successful therapy, and you can build that sense of connection whether you meet your therapist in person, on the phone, or online.