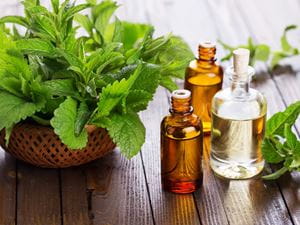 Shutterstock.com
For thousands of years, cultures around the world have been using the powerful properties of plants. These cultures have known the immense wellness benefits of plants, and in modern times, essential oils have brought to light what these cultures have known throughout the ages. Essential oils are derived from a broad range of plants and are made by distilling or extracting different parts of these plants, including the flowers, leaves or bark. This process creates highly concentrated oils with powerful properties.
There are seemingly endless amount of different essential oils you can try. There are so many varieties that have at least a dozen different uses each. However most of us have no idea how to use them other than as something good to smell. From blends to the basics, here we'll give you some great ideas for just what to do with that impressive collection growing in your cabinet.
Disinfect Surfaces
Many essential oils have antibacterial, antiviral, and antifungal properties. They are great options for use in simple homemade cleaning products, especially if you want to lessen the amount of chemicals in your home. Try adding a few drops of lemon, lavender, sweet orange, or tea tree oil into a small spray bottle with diluted soap. You can use it to wipe down different counters, including kitchen tops and bathroom surfaces. You can even use it to keep your toilet spick and span.
Protect Your Garden
Most chemicals on the market aren't safe for pets and children, making it difficult to find a pesticide that you feel comfortable using. However essential oils can help keep pests from destroying your garden. Combine 10 drops of essential oil with 8 ounces of water and castile soap for organic pest control. Use a spray attachment with your hose and spray the insects away. These same types of combinations are also great for a simple bug repellant for yourself or other outdoor seating areas. If moles and gophers are the issue in your garden, try applying peppermint essential oil onto a cotton ball and placing it in their holes. They will scurry away before you know it.
Use as Herbs
Instead of buying heaps of herbs from the grocery store that you never finish in time, try replacing them with essential oils. The basic rule is one drop of essential oil per tablespoon of herbs in your favorite recipe. They can be used in desserts as well, such as using a drop of peppermint into your mint chocolate brownies. If you're trying to drink more water but don't like the taste, try adding a drop of orange or lemon essential oil to eight ounces of water to make it tastier.
Pain Reliever
You may have heard that essential oils have some medical properties as well. If you have a headache, you can choose this all natural route over using over-the-counter drugs. Peggy O'Kelly, essential oil expert and founder and CEO of Napa Valley Bath Company suggests to "combine almond oil with four drops peppermint essential oil, two drops rosemary essential oil, one drop lavender essential oil, one drop chamomile essential oil, and one drop frankincense essential oil." Shake up the mixture then apply it to your temples, pulse points and the back of your neck. This will help ease your pain away.
Aromatherapy Bath
Are you in dire need of some relaxation? Add 2-5 drops of essential oil to bath water or use with Epsom salts or carrier oil. The aroma will help keep you feeling calm while you get some needed rest. Try out different blends of your favorite oils, while avoiding using cinnamon, cassia, oregano, wintergreen and lemongrass. These can sometimes irritate sensitive skin. Eucalyptus is a well-loved option.
Replace Your Candles
If you're afraid of leaving a candle burning, essential oils can leave a wonderful scent that won't pose a risk of your home catching fire. The best part is that you candecide what type of scent you're feeling up to based upon your mood or the season. For example, if you're hosting family and friends over for the holidays, you can diffuse a few drops of pine, sandalwood, or cedarwood oil. Certain oils are also great a eliminating cigarette smoke, pet odors, and the like! Try out different combinations until you find what's best for your home.
Essential oils have been around for years, and we are always discovering new and powerful ways they can be used in our homes. These oils help to eliminate the need for such strong chemicals while still giving fantastic results. What is your favorite way to use essential oils in your home?