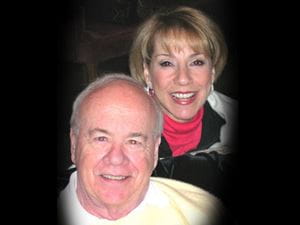 "When you grow up in a place like Chagrin Falls, Ohio, it's a religious experience in itself," said Tim Conway, the famous comedian. "Everyone in town looks out for each other." But for a 12-year-old boy, the biggest event of the year was the Spring Blossom Festival. There was a parade, but the big event, as far as Tim was concerned, was the carnival that would spring up overnight down by the river.
On one Saturday morning, Tim Conway headed for the carnival with five dimes in his pocket. He spent the first two dimes on the Ferris wheel and cotton candy. Then he studied the prizes in the game booths. Then he spotted what he'd really like. It was a cross, on a green ribbon, that glowed in the dark. All he had to do was fish one particular duck from the 60 ducks bobbing on the water of a big tank. After dropping one dime after another into the outstretched dirty palm of a man with long hair, he slumped toward home, his mission failed.
Head down, Tim Conway said to himself, I really wish I had that cross with a green ribbon that glows in the dark. Then, a godwink! Something others would call small…but to Tim Conway, it was life-changing. At the side of the sidewalk he spotted a shiny dime. He picked it up and…you can imagine him in slow motion, racing back to the carnival ground…and just as Tim was about to drop the dime into the outstretched dirty palm... he stopped.
This calls for something much bigger than me, thought Tim. He walked to a nearby maple, placed his head against his forearm, and reverently said: "Ah, God? I would really like that cross with the green ribbon that glows in the dark." Then, he turned, went back to the game booth, dropped the dime in the dirty palm, steadily held the fishing pole …and he GOT IT! And according to Tim Conway, "That godwink was the most amazing thing that ever happened to me!"
Epilogue: For Tim Conway, that cross with the green ribbon was confirmation that God heard the prayers of a small boy. He says, "I kept that cross under my pillow all through college and I still have it." I'm Squire Rushnell. Good wishes and godwinks.