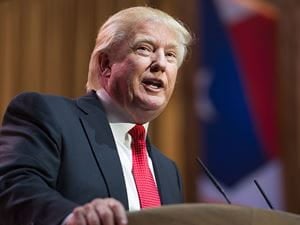 Christopher Halloran/Shutterstock.com
Love him or dislike him, it is irrelevant. The people have spoken and Donald Trump will assume the role of chief executive of the United States on Jan. 20, 2017 and will be sworn in as the 45th President of our nation. In addition to the wreath-laying ceremony, the welcome concerts and the parades, there will be people gathered on the sidelines for sure, but not all will be shouting praises or waving American flags. After a polarizing 2016 presidential campaign and a landslide victory on Nov. 8, many detractors are taking their consternation to the streets of Washington, D.C. in protest.
People can peacefully protest all they desire, it is their right as Americans. Yet, there will be those who will feed into the contention. This sadly is the case with the protest groups DisruptJ20, which flagrantly said they will not peacefully support the transition of the new president. Calling him a "fascist," the site explained their purposes: "We're planning a series of massive direct actions that will shut down the inauguration ceremonies and any related celebrations–the inaugural parade, the inaugural balls, you name it. We're also planning to paralyze the city itself, using blockades and marches to stop traffic and even public transit."
There will be other protest groups like the Women's March where they are anticipating 200,000 people to attend and walk the day after the inauguration on Jan. 21. The demonstration is summoning people to come together in solidarity to send a message to the new administration of the importance of women's rights. Nothing wrong here. The Act Now to Stop War and End Racism Coalition will attend the inaugural event to protest Trump. The Democratic Socialists of America are also expected to attend and both have that right. Students for a Democratic Society will hold a national student walkout, according to their Facebook page on the 20th. They formed an alliance with other student groups and "they will disrupt operations on campuses everywhere." SDS mission statement demands that all students in America receive free tuition and that there is equal access to education for all undocumented students. They also want to prevent mass deportations of illegal immigrants, something Trump advocated throughout his campaign. Don't particularly agree with them? Well, you don't need to, again it is the United States Constitution, which protects the right to freedom of religion and freedom of expression. Although, when freedom of expression becomes violent, then the bikers come to protect the public. Not necessarily always true, but the police will receive added assistance.
Chris Cox is the founder of Bikers For Trump and he spoke with "Fox & Friends" that his organization will guard people if things become violent. "In the event that we are needed, we will certainly form a wall of meat," said Cox. "We'll be shoulder-to-shoulder with our brothers. And we'll be toe-to-toe with anyone who's going to break through police barricades." Cox is anticipating that there will be a smooth transition of power and so does the incumbent president. "The presidency, the vice presidency is bigger than any of us," Barack Obama said after Trump's win in November. "We're actually all on one team. We're not Democrats first. We're not Republicans first. We're patriots first. We all want what's best for this country." He admitted that the country needs to heal and was encouraged by Trump's unity speech.
Trump echoed that it's time for America to bind the wounds of division. "To all Republicans, Democrats and independents across this nation, I say it is time for us to come together as one united people." That speech was made over 2 months ago and using the inauguration to whine that the election was lost is pedantic. Exercise free speech, but that is where it ends. Surely, Obama wants to give the reigns with a peaceful resolute, people can do the same. Look, Trump is not a choir boy. We don't need to agree with him or like him. In fact, hold him accountable like anyone else. Yet, there needs to be some semblance of unity for the highest office held in the land. If the motivating factor is hate, then as a nation we will never be healed. Evidently, neither the speech by Obama or by Trump diminished the outrage felt by some Democrats. Some are still not participating in the inaugural events.
For example, there are 16 key Democrats who will not be attending the inauguration out of protest. Yet, there will be those attending the inauguration out of respect and out of duty for public office. Former President Bill Clinton and former Secretary of State Hillary Clinton will attend. President George W. Bush (didn't endorse Trump) and former First Lady Laura Bush will be in attendance. Bush said in a speech that he knows people are disconcerted. "I understand the anger, and some people may have been angry when I was president. What needs to drive policy is what's best for the people who are angry."
What is best the policy for our country? It is not hatred. However, a righteous anger is justified and can influence the system. The great Martin Luther King Jr. propelled the civil rights movement by using nonviolence based on Christian convictions. He wanted solidarity among all people. He believed that darkness can't drive out darkness--only light can do that. Making an aim to disrupt and disrespect the inauguration is moot. Non-violence is the solution. King still motivates us today and instructs us to transform anger into action. "People fail to get along because they fear each other; they fear each other because they don't know each other," he said. "They don't know each other because they have not communicated with each other."
Is there a whisper of resentment in your heart? Don't allow it develop into something that can't be employed for good. The Presidential Inauguration of 2017 should not be used as a pulpit for violence or bullying. This event should be used to create unity. One thing is certain, the inauguration will go down as a quiet transition or unfold like a circus act. This will depend solely on those attending the events. Can protesters remain dignified as the world looks to America to be an illuminating example, or will they laugh at our disrespect that we have towards the highest office of our the land?